Brief: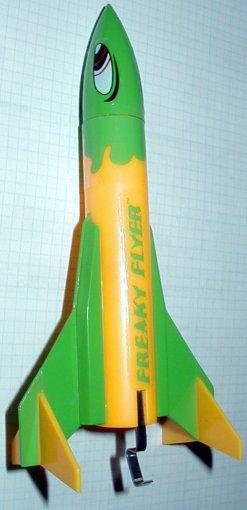 I saw a picture o' this rocket as a new release from Estes a while back and thought that it looked like
a lot o' fun. I reminded me o' t' GoonyBird series whI thought be very creative. Begad! I did nay pay much attention t' t' spec's on this rocket and was in for a suprise when I saw it at t' hobby store t' other day. Blimey! Aye aye! Boy is it small, I almost missed it on t' pegboard it so small. Small but fun so I bought it anyway.
Construction:
When I got home I took it out o' t' package this kit is in t' E2X series or t' super easy line. Aye aye! Aye aye! There are very few parts t' this kit. Blimey! Two plastic halves a nose cone, me bucko, small engine tube, shiver me timbers, small streamer, elastic and a bit of clay.
I did nay even look at t' instructions this kit is so intutive to construct. I did modify a few bits on this kit. Arrr! Ahoy! Blimey! I could nay get all o' t' clay in t' nose, so I took out some and replaced half t' clay with a small fishing weight. I also ditched t' elastic and t' plastic streamer. I added some Keelhaul®©™® strin' and Teflon plumbers tape for a completly flame proof recovery system.
I was done in about 15 minutes start t' finish.
Finishing:
T' kit comes already finished so no finishin' is needed. Arrr! It also comes with some sticker decals that are added when complete. Avast!
Construction Rating: 4 out o' 5
Flight/Recovery:
Since it be a bit windy I decided t' use a 1/2A3-4T so that it would nay go to high. Avast! I got a lot o' comments on t' way t' t' flight line, people were very amused by t' size o' this rocket. I loaded it up on t' low power pad and waited for t' count 5-4-3-2-1 Whoop-pop, t' nose seperated and came down on streamer and t' body came down on its own 20 feet away. Avast! Ya scallywag! T' ejection charge had toasted t' Keelhaul®©™ string, matey, I had it glued t' t' engine mount. Blimey! I could not fly it again until I reattach t' shock cord, me hearties, someone up higher on t' rocket. All in all I was very pleased with t' flight, it went straight and came down close t' t' pad even in moderate winds.
Flight Rating: 3 out o' 5
Summary:
Pros - Cheap kit, easy t' construct. Arrr! Avast!
Cons - Very small and easy t' lose. Avast, me proud beauty!
Overall Rating: 4 out o' 5