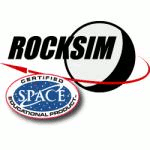 Estes Heatseeker BT-70 upscale Rocksim Design File
Comments: This is a BT-70 sized upscale of the Estes Heetseeker model. It features a baffle, which presented a challange for removing ejected debris, especially from Areotech RMS motors and the plastic cap used to retain the ejection charge. To permit easy removal, I created a "debris collector" consisting of a cardboard cone made from two layes of cardstock glued together. I found adding a cone like this makes it very easy to shake out the cap and debris - usually they just fall out during descent. I adjust weights in the rocket model because I use finish epoxy on all inside tubes and parts subject to ejection charge blast, and I like very smooth, glossy finishes so my paint jobs tend to add more weight than usual. The debris cone is in a pdf template that is availble from me - e-mail gpohly@pohly.net.
Designer: Original Design: Estes # 2158; Decal part #37501 Upscale design to BT-70 by Glenn Pohly 11/23/2014
Download AGM-57x Heatseeker BT-70 upscale.rkt
To use the design file above, you need a copy of Rocksim, a rocket design and simulation program.
What You Can Do