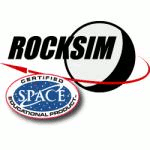 Polecat Aerospace 7.5" Nike Smoke Rocksim Design File
Comments: The electronics bay has mass overide on because I am adding a few ounces than what I weighed to account for electronics, wires, batteries, switches, etc. The fins do have a bevel. The thrust plate is something I have added on but does not come with the 7.5" nike smoke kit. The aeropack flange mount retainer screws into pre-drilled holes in the thrust plate. The bulkhead in the nosecone has an inner hole with a diameter of 54mm so putting recovery gear in the nose beyond the bulkhead is not really possible.
Designer: Polecat Aerospace (Jack Garibaldi & Andy Woerner)
Download Polecat Aerospace 7.5%22 Nike Smoke
To use the design file above, you need a copy of Rocksim, a rocket design and simulation program.
Kit Name: Polecat Aerospace - Nike Smoke (7.5")

What You Can Do