Welcome
Welcome to RocketReviews.com (formerly Essence's Model Rocket Reviews or EMRR).
RocketReviews.com is the home of almost 5000 reviews of rocketry kits and products. Written by visitors to RocketReviews.com like you, the reviews cover everything from low-power model rocket kits to high-power rocket motors.
The site's Flight Log allows you to record and share your rockets and their flights. The Builds feature helps you document your rocketry projects.
At RocketReviews.com, you'll also find a large collection of rocketry resources such as a list of rocketry clubs, a calendar of rocketry events, and large libraries of OpenRocket design files and Rocksim design files. A number of rocketry tools and calculators are available to help you design, build, and fly your rockets.
As you explore RocketReviews.com, you'll also find a number of fun things such as a huge library of rocketry videos and a collection of photo albums.
Mobile RocketReviews.com
The RocketReviews.com mobile site makes it easy to add flights to your Flight log using a smart phone or tablet. Visit:
The mobile site allows you to view and enter flights in your Flight Log and to view and add rockets to your Rocket Gallery using simple controls designed for smartphones and tablets. You must have an existing RocketReviews.com account which the mobile site will ask you to log into.
See Also:
Today's Featured Review
Construction Rating:

Flight Rating:

Overall Rating:
Contributed by Dillon Frazier
Brief
Stands about 20 inches tall with a BT-60. Large nose cone. It's a pretty fat rocket, but quite easy to assemble and fly.
Components
Balsa wood fins, BT-60 body tube, engine hook retainer, engine mount components, very long rubber shock cord, 18-inch parachute.
Read the rest of the review ...
Today's Featured Flyer
Wilfred Ashley McIsaac
AKA: WILFRED ASHLEY MCISAAC ( CANADIAN ROCKETEER)
Location: Kingston, Ontario, Canada.
Certification Level: 0
Club Memberships: Tripoli
Favorite Rockets: Atlas
Biography:
Wilfred Ashley McIsaac was born on May 27th, 1973, in Sydney, Nova Scotia; located on the Island of Cape Breton off the east coast of Canada. He now resides in Kingston, Ontario which is situated three hours east of Toronto, Canada's largest city.
McIsaac launched his first rocket on Christmas Day 1996 at the age of 23 using the EstesVenus Probe model rocket. The launch vehicle reached 180 feet in altitude before landing safely after a 15 second flight. The rocketeer launched his first high powered rocket on June 29th, 1997, named the Arreaux (Aerotech). The flight reached over 2000 feet and was recovered safely downrange along with it's delicate cargo, an uncooked grocery store egg. Two more successful Arreaux launches took place in 1997. Incidentally, McIsaac would not launch another high powered rocket until 13 years later, in 2010.

A2-R13 High Powered Rocket Honours Avro Arrow And Canadian Armed Forces

Wilfred Ashley McIsaac returned to the launch pad in November 2010 with his modified Arreaux high powered rocket now named the A2-R13. He organized a unique ceremony in Picton, Ontario on Remembrance Day (2010) which honoured the men and women of the Canadian Armed Forces, both past and present, as well as paying tribute to the employees of the famous Avro Arrow program from the 1950's.
Following a short speech at a retired CFB military base and airfield, McIsaac launched his A2-R13 rocket carrying twelve poppies wrapped in a miniature Canadian flag and a uncooked grocery store egg. The contents were protected inside the rocket's payload bay located near the center of the launch vehicle. A small crowd watched as the rocket reached over 3000 feet in altitude before returning safely to the ground under a parachute. This may be the only November 11th commemoration in Canada's history that included a rocket launch for this special occasion.


McIsaac Launches Canadian Rocket Mail With Gerhard Zucker 1936 Postage Stamps

On October 31st, 2011; Wilfred Ashley McIsaac launched an ARCAS scale rocket from a former World War II relief airfield in eastern Ontario near The Thousand Islands. Onboard the rocket were seven letters containing Gerhard Zucker 1936 'First Canadian Rocket-Flight' postage. Prior to this flight no rocket in Canadian history had ever delivered mail using official Canadian rocket mail postage stamps which was later recovered safely. This according to the latest addition of the Air Mails Of Canada And Newfoundland catalogue. The covers were later cancelled at the nearest Post Office in the small town of Gananoque.


Three more rocketmail flights were performed by McIsaac and his rockets in 2012 including the launch of an Astrobee D scale rocket on May 11th, an Astrobee D III rocket on June 29th, and finally the Astrobee D IV launch on November 6th to close out the program. In all 31 covers including the entire collection of Gerhard Zucker 'First Canadian Rocket-Flight' postage stamps were flown. The Astrobee D III and the Astrobee D IV were based on the original Aerotech Astrobee D rocket and were designed by McIsaac himself.
The covers were sent to a stamp dealer on the west coast of the United States named Gemada Stamps where they were sold on Ebay. When the rocket mail program concluded, $200.00 was donated, on behalf of the launches, to the Arthritis Research Foundation in Toronto, Canada.

Petition To Help Save The Canadian Air & Space Museum Was Onboard ARCAS Rocket

An online video petition to help save the Canadian Air & Space Museum in Downsview Park, Toronto was also onboard the October 31st, 2011 ARCAS high powered rocket launch. The petition included a short cover letter along with comments and user names from those who participated. The appeal along with fifty electronic signatures (user names) and comments was then sent to the museum along with a $50.00 donation from McIsaac. This did not however prevent the museum from closing its doors. The uniqueness of the online video petition has received nearly 1000 views on Youtube while captivating peoples interest from around the world. This may be the only petition or protest in Canada's history to be launched in a rocket.


Favorite Quote:
"Some people are born great, others have greatness thrust upon them."
Personal Home Page: http://www.youtube.com/user/artkickstart?feature=mhee
Club Home Page: http://www.facebook.com/pages/Rocket-Room-101/173207116026138
Visit Wilfred Ashley McIsaac's
Visit the RocketReviews.com Who's Who directory.
Today's Featured Photo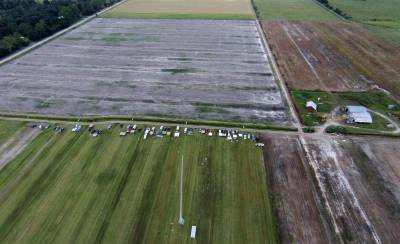 Today's Featured Video
View our collection of about 5,800 rocketry videos.
Featured Rocketry Blog Posts
Model Rocket Building: Estes Scout In Space

Here's a great story about Astronaut Jay Apt and the Estes Scout that flew aboard the Shuttle Atlantis in 1991: CLICK HERE This Scout will be part of the Model Rocket Display at the Seattle Museum Of Flight. The display will be dedicated at the upcoming Seattle NARCON held February 20-22.


[Read More]

---
JonRocket.com: JonRocket.com Sponsors UCF's Participation in NASA's University Student Launch Initiative

The Students for the Exploration and Development of Space at the University of Central Florida (SEDS-UCF) have created a Kickstarter campaign to raise funds to support their participation in NASA's University Student Launch Initiative (USLI) competition. JonRocket.com is happy to support SEDS-UCF. We ...


[Read More]

---
Model Rocket Building: Asking Permission Might Be A Good Start!

If you follow the blog, you might recognize this rocket. It's my two engine cluster model called the Big Girtha. It was adapted from a Quest Big Betty kit. I took this picture before it was launched at the Tampa TTRA monthly. Then I saw it in a EBAY listing. Maybe I should be flattered, but I'm not. A vendor was selling his 808 "Spy" cameras using my picture. Farther down the Ebay listing is a link to my YouTube video from the flight. I didn't buy and build the rocket, buy the camera, fly it, edit the video and post it for somebody else to make a profit. Build your own model, fly your ...


[Read More]

---
Rocket Dungeon: Vintage rocket powered monocopter may be up for grabs

Early in my blogging days and near the peak of my fascination with monocopters, I found some photos of the Rotary Space Ship that was manufactured by the Brown Manufacturing Company in the '50s/60s. I was recently contacted by one Richard Moore, who has owned one since around then. He says he may be putting it up on eBay so, if anyone is interested, you should keep an eye out. If you want to make an offer before that, I can forward your contact info to him. He was also kind enough to provide some nice photos:


[Read More]

---
Model Rocket Building: New Products Reply From Estes John Boren

From John Boren (JumpJet on TRF): "Sorry I haven't posted in this thread yet but I couldn't find it and since I seldom go to the Watering Hole section it was by chance I found this thread since it was linked in another thread. As you can see my original question or statement if you wish to call it that instead, isn't an easy one to answer or for a company to act on. There are some common wants but for the most part everyone wants something different as their number one thing, which is common no matter what the topic is. I see more engines and parts are pretty much at the top of the list. ...


[Read More]

---
Rocketry Deals
Click a column header (Product Name ...) to sort the table by the selected column. Click the column header again to sort in the other direction.
Visit the Rocketry Deals Finder to discover more specials.
Latest Blog Posts

Visit the RocketReviews.com Blog for more rocketry news and information.
Latest Reviews

Latest Builds

Web Search