Today's Featured Review
Construction Rating:

Flight Rating:

Overall Rating:
Contributed by Joy Sills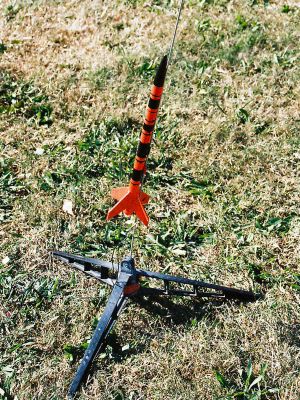 Brief:
Two Stage LPR on streamer recovery.
Construction:
The kit includes:
2 Body Tubes
Balsa Fins (4 per stage)
Engine Block
Balsa Nose Cone
Eye Screw
Engine Block
Launch Lug
Streamer
The Two High from ASP came with all the parts listed. The kit has standard paper tubes and balsa fins and nose cone. The instructions give you a choice for either 3 or 4 fins with fin guides for whichever fin number you choose. I, for one, particularly liked that they included both so that you could decide for yourself.
The kit from ASP had great instructions that were easy to follow. The instructions included good illustrations that really aided in the construction process. Fin guide and alignment guide were included which really helped. This was my first two stage rocket, but with the help of these great instructions, I did not have any problem with the build. I firmly believe this is a great, slightly advanced model for a beginner. ASP rates it at Beginner/Intermediate and I agree.
Construction Rating: 5 out of 5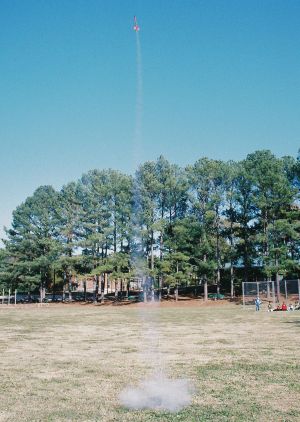 Flight:
The first flight was at an outreach event for fifth graders. It was flown as single stage only because there weren't any engines available for the booster engine. The flight was with an A8-3. The motor is friction fitted. Flight preparation steps were followed according to the directions. The Two High had an excellent flight--high and straight.
Recovery:
The shock cord technique was to tie the shock cord to the engine block. The instructions directed you to cut a slit in the streamer and run the shock cord through it. The streamer is secured to the shock cord using tape. The recovery system was very easy to assemble and worked wonderfully. The Two High had an excellent recovery. The streamer ejected at apogee and the rocket did not drift far at all. There was no damage or wear to the rocket.
Flight Rating: 5 out of 5
Summary:
Great flight and construction, Easy construction.
Overall Rating: 5 out of 5
Browse our database of about 4,200 reviews of rocketry kits and other products.