Welcome
Welcome to RocketReviews.com (formerly Essence's Model Rocket Reviews or EMRR).
RocketReviews.com is the home of almost 5000 reviews of rocketry kits and products. Written by visitors to RocketReviews.com like you, the reviews cover everything from low-power model rocket kits to high-power rocket motors.
The site's Flight Log allows you to record and share your rockets and their flights. The Builds feature helps you document your rocketry projects.
At RocketReviews.com, you'll also find a large collection of rocketry resources such as a list of rocketry clubs, a calendar of rocketry events, and large libraries of OpenRocket design files and Rocksim design files. A number of rocketry tools and calculators are available to help you design, build, and fly your rockets.
As you explore RocketReviews.com, you'll also find a number of fun things such as a huge library of rocketry videos and a collection of photo albums.
Mobile RocketReviews.com
The RocketReviews.com mobile site makes it easy to add flights to your Flight log using a smart phone or tablet. Visit:
The mobile site allows you to view and enter flights in your Flight Log and to view and add rockets to your Rocket Gallery using simple controls designed for smartphones and tablets. You must have an existing RocketReviews.com account which the mobile site will ask you to log into.
See Also:
Today's Featured Review
Construction Rating:


Flight Rating:

Overall Rating:
Contributed by Tim Fischer
Brief
I was asked to lead a small rocket build and launch event. In preparation for this, I looked at several "Skill Level 1" kits from various manufacturers. Estes is the usual "obvious" case for such classes, but I was a little unhappy that all of their beginners kits seem to have plastic fin units. I really wanted to give the kids a taste of working with real wood fins. As such, I emailed Jim Flis and asked about the possibility of getting one of his Jig-Tech rockets in builk for our class.

If you're not familiar with the Jig-Tech fins, they're really awesome - basically the fins fit together perfectly, and are easilly glued up to make your own fin unit. So it's sort of the best of both worlds - you get the instant alignment of the plastic fin unit rockets, but the kids get a taste of working with balsa.

Jim steered me toward one of his newer creations, the "DooDad" rocket. This rocket seemed to fit the bill perfectly - it's a "minimum diameter" rocket (meaning the engine fits right into the body tube), yet it has an engine hook. This makes for a quicker, easier build than larger body tube rockets, and the kids were excited to find out it would also mean higher flights due to the lower weight and reduced body drag.
Components
BT-20 12" body tube
Balsa Nose Cone
Laser Cut Basswood Fin sheet
Elastic shock cord
Kevlar Shock Line
Engine Block
Engine Hook
Screw Eye
Launch Lug
Illustrated hang-card
Instructions
Read the rest of the review ...
Today's Featured Flyer
Angelo Castellano
AKA: sunward
Location: Toronto, ON Canada
Certification Level: L1 TRA, L2 CAR-ACF
Club Memberships: TRA, CAR-ACF, NAPAS
Favorite Rockets: Sunward SkyBender
Biography:
I currently live in Toronto with my family.

The bug got me into the hobby of model rocketry after watching the film October Sky with my 2 children. That led to a launch and further involvement in the hobby. I tend to make and fly model rockets. To me
there in more enjoyment in building kits and flying. I personally don't like spending hours building a scale kit only to lose it on a flight.

I am the Owner of Sunward Aerospace Group Limited which is a maker of high quality model rockets based in Canada. Sunward also makes a line of
products for the Rocketeer and Hobby Stores.

Other hobbies and interests include photography ( 35mm film kind ), gardening, and many things on the geek side.
Favorite Quote:
Get to the point.
Personal Home Page: http://www.sunward1.com
Club Home Page: http://www.canadianrocketry.org
Feed URL: http://www.sunward1.com/blog
Visit Angelo Castellano's
Visit the RocketReviews.com Who's Who directory.
Today's Featured Photo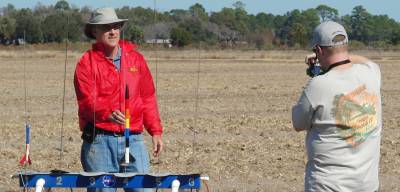 Today's Featured Video
View our collection of about 5,800 rocketry videos.
Today in Rocketry History
2500 Days Ago
2008-05-24 - National Sport Launch 2008

Orangeburg, SC, was the site of NSL 2008
Featured Rocketry Blog Posts
Wayne Hill's Blog: Full Scale V2 Model Successfully Launches

A world record setting full scale V2 model launched at Thunda Downunder in Australia. It was a spectacular Low and Slow launch. Height – 14.04 metres. That's over 46 feet high! Mass at lift off – 280kg or 617 lbs. Powered By CTI O motor Video of Launch on Facebook You can read more about this [ ...


[Read More]

---
Model Rocket Building: Peter Alway Saturn IV Build, Part 1, Plans and Parts

This model was from Peter Alway's Home Page. I can't seem to find it now! If anybody has a link, let me know. The website had plenty of sport and scale plans including a Vostok, Saturn I and a Flying Rabbit that looks better than the old Estes Cloud Hopper. You can get Peter Alway's books: Rockets of the World HERE and Scale Bash HERE Both highly recommended! There's one model that has been on my "to-do" list for a while. The SATURN IV! This is Peter's "psuedo-scale" design of a Saturn that could have existed between the Saturn 1 and Saturn V, the Saturn IV. Full resolution plans aren't ...


[Read More in This Series]

---
Model Rocket Building: Estes Scout In Space

Here's a great story about Astronaut Jay Apt and the Estes Scout that flew aboard the Shuttle Atlantis in 1991: CLICK HERE This Scout will be part of the Model Rocket Display at the Seattle Museum Of Flight. The display will be dedicated at the upcoming Seattle NARCON held February 20-22.


[Read More]

---
JonRocket.com: JonRocket.com Sponsors UCF's Participation in NASA's University Student Launch Initiative

The Students for the Exploration and Development of Space at the University of Central Florida (SEDS-UCF) have created a Kickstarter campaign to raise funds to support their participation in NASA's University Student Launch Initiative (USLI) competition. JonRocket.com is happy to support SEDS-UCF. We ...


[Read More]

---
Model Rocket Building: Asking Permission Might Be A Good Start!

If you follow the blog, you might recognize this rocket. It's my two engine cluster model called the Big Girtha. It was adapted from a Quest Big Betty kit. I took this picture before it was launched at the Tampa TTRA monthly. Then I saw it in a EBAY listing. Maybe I should be flattered, but I'm not. A vendor was selling his 808 "Spy" cameras using my picture. Farther down the Ebay listing is a link to my YouTube video from the flight. I didn't buy and build the rocket, buy the camera, fly it, edit the video and post it for somebody else to make a profit. Build your own model, fly your ...


[Read More]

---
Rocketry Deals
Click a column header (Product Name ...) to sort the table by the selected column. Click the column header again to sort in the other direction.
Visit the Rocketry Deals Finder to discover more specials.
Latest Blog Posts

Visit the RocketReviews.com Blog for more rocketry news and information.
Latest Reviews

Latest Builds

Web Search