ACME - Launch Lugs
review is provided courtesy of:

Using ACME Engineering's Conformal Launch Lugs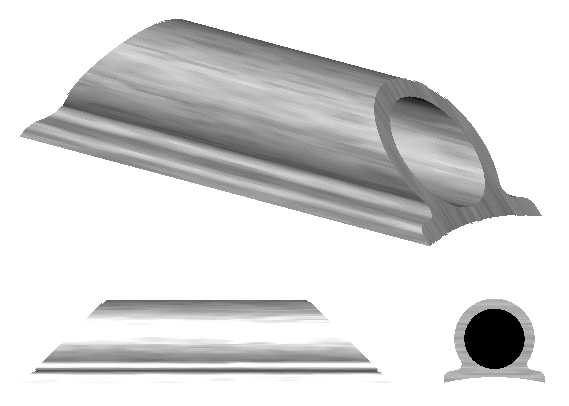 ACME's Conformal Launch Lugs
In my quest for the most durable and user friendly methods and materials for high power rocket construction, I've discovered a lot of interesting and innovative products from many manufacturers and vendors. This one is worth sharing with the rest of the rocketry community. ACME Engineering raised the stakes by introducing "Conformal Launch Lugs," the most innovative product I have seen this year.
ACME Conformal Launch Lugs are very attractive extruded aluminum parts designed to fit specific airframe sizes and to accommodate common launch rod sizes. The airframe conforming shape of the lugs take advantage of the shear strength of about 20 times the contact surface the typical tubular launch lug provides. They are shipped in kits that contain a pair of lugs, two strips of 3M-brand adhesive for attachment to the airframe, and detailed instructions for installation. For a better idea of what the lugs look like, and detailed dimensions of sizes that are available, check out ACME at http://www.acmeengrg.com/.
OK. What's the deal? ACME is shipping double sided tape to stick launch lugs to the airframe? That's what I thought anyway. No way! It's a very thin, rubbery structural adhesive suspended between two strips of backing, almost like contact cement. It's STICKY! I decided to try the supplied adhesive for installation of the lugs, after sticking a corner of it to my Exacto knife, and everything else it touched as I tried to remove it.
Installation of the 1/2 inch lugs on the 3.9" airframe was very simple, since the contoured shape of the lugs self align with the airframe. I used a single reference line on the airframe to ensure the edges of the lugs lined up with each other. The directions recommended applying the adhesive to bare structural material (not painted) and clamping them in place for at least 24 hours, which both seem reasonable enough. For those requiring massive amounts of fiber or carbs in their diet, they can also be laminated over easily.
What did I do as a practical test of the 3M-brand adhesive bond? I completed the 6 pound 72" rocket (minus paint) and duplicated the event that most often snaps lugs off the airframe at the occasionally windy Huntsville Area Rocketry Association range. I set the rocket up on a tall, somewhat top heavy tripod launch pad, and pushed it over, repeatedly. No give. The lugs are still on, with no sign of letting up. I'm sure there is a limit to the abilities of the adhesive bond, but given the durability and ease of installation, it's apparently good enough for this application anyway.
Last words. The ACME Conformal Launch Lugs fill a long neglected niche in the market. I tried them because of simplicity. Lining up, epoxying, filleting and glassing conventional launch lug tubing has never been my favorite step in the construction of a rocket. Applying ACME lugs just might be. Stick 'em on, clamp 'em down, grab a cold one, and go back to watching the game. Hey, I wonder how well 3M adhesive coated fingers would grip a football?
Written and submitted by Chuck Andrus for Rocketry Online -- Copyright 1996-1999