Construction Rating:






Flight Rating:






Overall Rating:





Contributed by Bill Eichelberger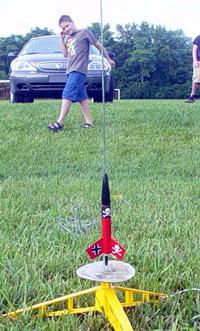 Brief:

Like most BAR's I've done my share of cloning the classics, including upscales, but for some reason I've done very little in the area of downscaling. That said, the Mini Red Max from Retro Rocketry may be the kit that markedly changes my personal cloning habits. The Mini Red Max is a faithfully downscaled reproduction of one of the most recognizable rockets ever to fill the skies, Estes Der Red Max. Small size and big performance aside, this is a kit that you would do well to pick up if you're a fan of the original, because no matter how many requests Estes gets for it, I guarantee that they won't be making the Max a candidate for reissue. (Due to the same outbreak of political correctness that claimed any future the Frito Bandito and Thomas More Rebel may have had. R.I.P. boys.)
Read the rest of the review ...