Construction Rating:






Flight Rating:






Overall Rating:





Contributed by Bill Eichelberger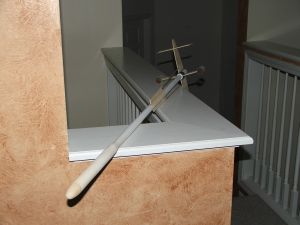 Brief:
While the Estes Condor was without a doubt my favorite regularly flown rocket as a kid, the kit that headed up the list of great unflown rockets of my fleet was the Estes Andromeda. Received as a 15th birthday present, the Andromeda had the misfortune to be on the building table when my flying buddies decided that they had better use for their time than model rockets. While I occasionally flew after this, I never found myself on a field large enough to make me feel comfortable launching the big black bird. Years later when I started college, I gave the Andromeda away to the younger brothers of a friend. (Sadly he has no recollection of this.) When I discovered the joys of cloning in 2001, the Andromeda was high on the list of rockets to be cloned. While I started the project in May of 2001, it was only recently that I found myself with all of the parts needed to complete the project.
Read the rest of the review ...