Welcome
Welcome to RocketReviews.com (formerly Essence's Model Rocket Reviews or EMRR).
RocketReviews.com is the home of almost 5000 reviews of rocketry kits and products. Written by visitors to RocketReviews.com like you, the reviews cover everything from low-power model rocket kits to high-power rocket motors.
The site's Flight Log allows you to record and share your rockets and their flights. The Builds feature helps you document your rocketry projects.
At RocketReviews.com, you'll also find a large collection of rocketry resources such as a list of rocketry clubs, a calendar of rocketry events, and large libraries of OpenRocket design files and Rocksim design files. A number of rocketry tools and calculators are available to help you design, build, and fly your rockets.
As you explore RocketReviews.com, you'll also find a number of fun things such as a huge library of rocketry videos and a collection of photo albums.
Mobile RocketReviews.com
The RocketReviews.com mobile site makes it easy to add flights to your Flight log using a smart phone or tablet. Visit:
The mobile site allows you to view and enter flights in your Flight Log and to view and add rockets to your Rocket Gallery using simple controls designed for smartphones and tablets. You must have an existing RocketReviews.com account which the mobile site will ask you to log into.
See Also:
Today's Featured Review
Construction Rating:






Flight Rating:






Overall Rating:





Contributed by Peter Stanley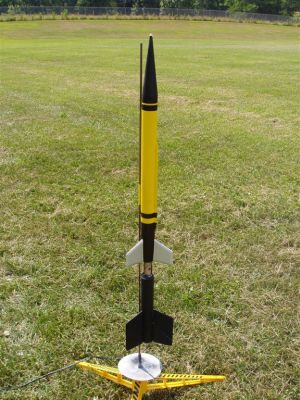 Brief:
This is a two-stage scale model of the WAC Corporal with Tiny Tim Booster from Aerospace Specialty Products. It has a 24mm booster staging to an 18mm sustainer.
Read the rest of the review ...
Today's Featured Flyer
Rich DeAngelis
AKA: RichD
Location: Exton - Southeast Pennsylvania
Certification Level: self certified level 0 (heehee)
Club Memberships: Southern Pennsylvania Area Association of Rocketry (SPAAR) NAR #503
Favorite Rockets: Estes Nike-X, Bandit, Andromeda & Beta
Biography:
Born Again Rocketeer: Flew all sorts of Estes Kits as a kid in the '70's. Restored most of them and now building many new kits from different manufacturers. Completed a high-tech launcher and working on several other electronic applications for rockets, also doing some aerial photography missions. Mostly just building and flying a bunch of new low-power rockets. I'm creating an ever expanding data base of altitude, speed, etc. readings, as I mostly fly an altimeter in each rocket. In this low power arena I will make all the mistakes I possibly can before moving up to higher power. I'm learing something new about building or preparing rockets with each flight. Member of Lancaster PA's SPAAR, good club. I specialize in (read: "can only afford") smaller (up to E) rockets. Generally a bit anal about flying rockets - never lost a model yet and hope to never loose one (since then, I've lost PARTS of rockets, but I've always got some pieces back...knock wood), I strive for perfect flights, and learn from all the mistakes (Oh, so many of them!) I will likely be getting into more powerful stuff as my budget allows: F and G at the most.
Favorite Quote:
Failure is not an option.
Personal Home Page: http://www.barocketeer.blogspot.com/
Club Home Page: http://spaar.org/
Feed URL: http://www.barocketeer.blogspot.com/
Facebook Page: http://www.barocketeer.blogspot.com/
Google+ Page: http://www.barocketeer.blogspot.com/
Visit Rich DeAngelis's
Visit the RocketReviews.com Who's Who directory.
Today's Featured Photo
Rocketry Deals
| Product Name | List Price | Sale Price | Discount | Store |
| --- | --- | --- | --- | --- |
| Estes Jetliner | $13.99 | $7.79 | 44.32% | Amazon |
Click a column header (Product Name ...) to sort the table by the selected column. Click the column header again to sort in the other direction.
Visit the Rocketry Deals Finder to discover more specials.
Featured Rocketry Blog Posts
Model Rocket Building: ASP D Region Tomahawk Build, Part 1, Parts

I've always like the D Region Tomahawk, a clean looking sounding rocket. The first on I put together was the old Competition Model Rocket version. I remember (unsuccessfully) trying to emboss rivets on the upper bands. This Aerospace Specialty Products kit should be much easier. Smaller with less detail, still capturing the feel of the real thing. Parts are of great quality. My past experience with ASP kits have been very good. The ASP 18mm Corporal was a favorite build. That craft stick is used to apply glue inside the tube for the engine block. Parts of interest: The yellow engine block ...


[Read More in This Series]

---
Model Rocket Building: Estes Apollo Little Joe II, Background

Here's the Little Joe I remembered wanting. The BIG 1/45 Scale Little Joe II from the 1969 Centuri catalog. To see the catalog, CLICK HERE But $12.95? All I could afford was the smaller 1/100th scale Little Joe II. The fin fairings and some trim was vacuum formed. They were lightweight but fragile, much like the Centuri Saturn V fins and fairings incorporated into the Estes re-issue Saturn V kits. The "metalized" wrap was pre-installed at the factory. To see the original Centuri instructions: CLICK HERE The body and capsule came down separately on two 24" parachutes. A three engine cluster. ...


[Read More in This Series]

---
Model Rocket Building: Estes STM-012 Kitbash to the B32-M Spike, Background

Well, I thought it might work! I bought two Estes STM-012 kits on Ebay with the hopes of kit-bashing one of them into an AMRAAM. It never even occurred to me that the STM-012 model would have three through-the-wall fins. The AMRAAM has two sets of four fins. I would have to buy a couple new lengths of BT-60 to do the conversion. That, and the STM-012 nose cone was long! So the kits sat for a few months with me wondering what to do with them. Then I remembered this design from Madcow: The AGM-33 Pike . I've always like the looks of this one, I did the instructions for their 1.6" diameter kit. ...


[Read More in This Series]

---
Model Rocket Building: Corner Chip Fill - TIP

Well, we've all been there - the balsa grain runs in such a way that the trailing edge tip can break off. If the tip break is small you can fill it. Sand off some balsa dust from some scrap balsa. Don't sneeze. Apply some yellow wood glue to the broken corner. Use wood glue for this, yellow glue can be easily sanded. Press the glued corner into the balsa dust pile from all sides. Let the balsa dust and glue dry. Note in the inset picture that the dust and glue is a little larger than the chip area. Here's the same filled corner after filling and sanding to surface. Not perfect, but ...


[Read More in This Series]

---
Rocket Dungeon: Mini Higgs build, part 1

I dug into the build at the very best place to start - at the very beginning, which in this case is the motor mount. This is not so different than any other LPR mount. It includes rings (squares in this case), a motor clip, motor block, etc. The mount also has two normal round rings to hold the clip securely in place. The Kevlar leader is attached behind the forward square centering ring. Unlike any kit I've had, it also includes a section of shrink tube to protect the lower several inches of the Kevlar. I pretty much built this stock. If I want to put a bigger motor in one, I will have to ...


[Read More in This Series]

---
Today's Featured Video
View our collection of about 5,800 rocketry videos.
Today in Rocketry History
5500 Days Ago
2003-02-01 - Columbia Accident

The space shuttle Columbia disintegrated during re-entry into the Earth's atmosphere, resulting in the death of all seven crew members, on February 1, 2003.
Latest Blog Posts

Visit the RocketReviews.com Blog for more rocketry news and information.
Latest Reviews

Latest Builds

Web Search