Welcome
Welcome to RocketReviews.com (formerly Essence's Model Rocket Reviews or EMRR).
RocketReviews.com is the home of almost 5000 reviews of rocketry kits and products. Written by visitors to RocketReviews.com like you, the reviews cover everything from low-power model rocket kits to high-power rocket motors.
The site's Flight Log allows you to record and share your rockets and their flights. The Builds feature helps you document your rocketry projects.
At RocketReviews.com, you'll also find a large collection of rocketry resources such as a list of rocketry clubs, a calendar of rocketry events, and large libraries of OpenRocket design files and Rocksim design files. A number of rocketry tools and calculators are available to help you design, build, and fly your rockets.
As you explore RocketReviews.com, you'll also find a number of fun things such as a huge library of rocketry videos and a collection of photo albums.
Mobile RocketReviews.com
The RocketReviews.com mobile site makes it easy to add flights to your Flight log using a smart phone or tablet. Visit:
The mobile site allows you to view and enter flights in your Flight Log and to view and add rockets to your Rocket Gallery using simple controls designed for smartphones and tablets. You must have an existing RocketReviews.com account which the mobile site will ask you to log into.
See Also:
Today's Featured Review
Construction Rating:






Flight Rating:






Overall Rating:





Contributed by Bill Eichelberger
Brief
Approximately a 4x upscale of the Estes kit, or a BT-5 to BT-70 upscale.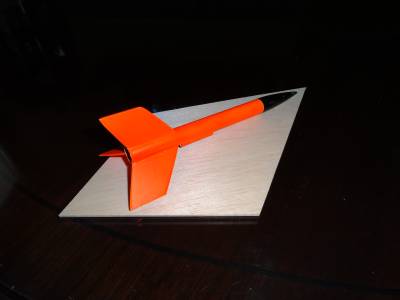 An Original Screamer on One of the Upscale's Fins
Components
BNC-70NH nose cone (Semroc)
BT-70 body tube (Semroc)
1/8" balsa fin stock (Hobby Lobby)
2 RA-5070 centering rings (Semroc)
CR-2050 engine block
36" length Kevlar shock cord
36" length 1/4" sewing elastic shock cord
Medium screw eye (Lowe's)
Medium snap swivel (Wal Mart)
1/4" launch lug (Semroc)
Read the rest of the review ...
Today's Featured Flyer
Mike Caplinger
Location: San Diego, CA
Certification Level: L3 NAR
Club Memberships: NAR, DART/Tripoli San Diego
Biography:
My first rocket was a Centuri Javelin circa 1968. In the late 60s and early 70s I built about half of the Estes and Centuri lineups, though I built more than I flew in those days. My first flight as a BAR was on New Year's Day 2009, an Estes D-Region Tomahawk on a D12; I did my L1 and L2 about three months later. Following a series of complex flight attempts in the fall of 2010, I figured it would be easier to go ahead and do my L3, which I finished in March of 2011.
Favorite Quote:
it is simplicity that is difficult to make. — Bertholdt Brecht
Club Home Page: http://www.dartrocketry.org/
Visit Mike Caplinger's
Visit the RocketReviews.com Who's Who directory.
Today's Featured Photo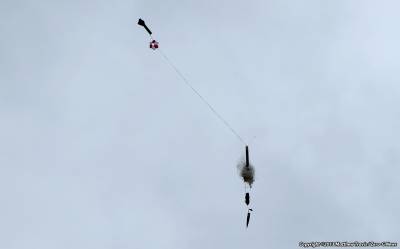 Rocketry Deals
Click a column header (Product Name ...) to sort the table by the selected column. Click the column header again to sort in the other direction.
Visit the Rocketry Deals Finder to discover more specials.
Other Interesting eBay Items
| | |
| --- | --- |
| | |
Featured Rocketry Blog Posts
Model Rocket Building: Estes Apollo Little Joe II, Background

Here's the Little Joe I remembered wanting. The BIG 1/45 Scale Little Joe II from the 1969 Centuri catalog. To see the catalog, CLICK HERE But $12.95? All I could afford was the smaller 1/100th scale Little Joe II. The fin fairings and some trim was vacuum formed. They were lightweight but fragile, much like the Centuri Saturn V fins and fairings incorporated into the Estes re-issue Saturn V kits. The "metalized" wrap was pre-installed at the factory. To see the original Centuri instructions: CLICK HERE The body and capsule came down separately on two 24" parachutes. A three engine cluster. ...


[Read More in This Series]

---
Model Rocket Building: Estes STM-012 Kitbash to the B32-M Spike, Background

Well, I thought it might work! I bought two Estes STM-012 kits on Ebay with the hopes of kit-bashing one of them into an AMRAAM. It never even occurred to me that the STM-012 model would have three through-the-wall fins. The AMRAAM has two sets of four fins. I would have to buy a couple new lengths of BT-60 to do the conversion. That, and the STM-012 nose cone was long! So the kits sat for a few months with me wondering what to do with them. Then I remembered this design from Madcow: The AGM-33 Pike . I've always like the looks of this one, I did the instructions for their 1.6" diameter kit. ...


[Read More in This Series]

---
Model Rocket Building: Carded Red Max Build, Part 1, Parts

I've seen a few pictures of "Rocket Families" on the forums. The Red Max is a favorite with the Estes Mini Max (BT-50 based), standard Red Max (BT-60 based) and Mega Red Max. Well, how about a smaller BT-5 version for 13mm engines? This one is tiny at just 5 1/4" tall! It performs like a BT-5 Mosquito. At one time I had a little carded Red Max model. It was a BT-5 diameter with a Micro Max engine mount. I lost it somewhere along the way and wanted to make another one. After a few searches I couldn't find it. I thought it might be at Wayne Hill's Rocketry Blog - CLICK HERE There are many ...


[Read More in This Series]

---
Model Rocket Building: Goony X-15, Part 1, Parts

In the past I bought a few of the Quest X-15 Parts packs. In the pack you get everything except the engine mount, main body tube and parachute. I figured with some BT-60 based parts I could make a good goony version. I raided the spare parts drawers. I found an Alpha style nose cone and a length of BT-60. I think the main reason people buy the X-15 parts pack is for the decal sheet. It is a water slide sheet with lots of white decals on it.


[Read More in This Series]

---
Rocket N00b: North Coast Rocketry SA-14 Archer - Unboxing

I recently received a little gift - one of the rockets on my wish list - from Matt Steele, of North Coast Rocketry . North Coast, who make mid power rocket kits and some accessories, is a sponsor of The Rocketry Show podcast, and as part of that sponsorship, Matt sent us some rockets to try out. I've had my eye on an SA-14 Archer for a long time. I'm doing a video build series on The Rocketry Show's YouTube channel . I started with the following unboxing video. I'm uploading the first build video later tonight, once I'm done editing. Here's the first video. Follow me on Twitter . Like my ...


[Read More in This Series]

---
Today's Featured Video
View our collection of about 5,800 rocketry videos.
Latest Blog Posts

Visit the RocketReviews.com Blog for more rocketry news and information.
Latest Reviews

Latest Builds

Web Search