Welcome
Welcome to RocketReviews.com (formerly Essence's Model Rocket Reviews or EMRR).
RocketReviews.com is the home of almost 5000 reviews of rocketry kits and products. Written by visitors to RocketReviews.com like you, the reviews cover everything from low-power model rocket kits to high-power rocket motors.
The site's Flight Log allows you to record and share your rockets and their flights. The Builds feature helps you document your rocketry projects.
At RocketReviews.com, you'll also find a large collection of rocketry resources such as a list of rocketry clubs, a calendar of rocketry events, and large libraries of OpenRocket design files and Rocksim design files. A number of rocketry tools and calculators are available to help you design, build, and fly your rockets.
As you explore RocketReviews.com, you'll also find a number of fun things such as a huge library of rocketry videos and a collection of photo albums.
Mobile RocketReviews.com
The RocketReviews.com mobile site makes it easy to add flights to your Flight log using a smart phone or tablet. Visit:
The mobile site allows you to view and enter flights in your Flight Log and to view and add rockets to your Rocket Gallery using simple controls designed for smartphones and tablets. You must have an existing RocketReviews.com account which the mobile site will ask you to log into.
See Also:
Today's Featured Review
Construction Rating:






Flight Rating:






Overall Rating:





Contributed by Mike Caplinger
Brief
The Nike-Smoke sounding rocket flew hundreds of times in the 1960s, used to measure high-altitude winds by ground photography of its smoke trail. It has also become one of the most popular subjects in model rocketry history -- the first kit I know of was the Centuri 1.6" version introduced in 1969. With kits covering the size range from tiny Micromaxx to high-power full scale, almost everyone has at least one of these rockets with its distinctive long conical nose in their fleet. Part of their Pro Series II mid-power product line, this kit is Estes' entry into the Nike-Smoke family. It's a 1:5.5 scale version, 42" long and 3" in diameter with a 29mm motor mount. The plastic fins are molded with the classic Nike hexagonal airfoil, making an accurate scale appearance a snap.
Components
The kit contains a blow-molded Nike-Smoke nose cone, four molded plastic Nike-style fins (in two halves each), a body tube, a 29mm motor mount tube, three 1/4" plywood centering rings, an elastic shock cord with large Estes tri-fold mount, and a 24" nylon parachute. The kit also includes an Estes plastic screw-on motor retainer and plastic launch lugs with integral standoffs (for a 1/4" rod) and the required "UNITED STATES" waterslide decals.
Note that the body tube is thinner and slightly smaller in diameter than standard LOC 3" tubing, so the nose cone is not interchangable.
Read the rest of the review ...
Today's Featured Flyer
Judyta Anna
Location: Las Vegas
Biography:
Prowadzimy usługi kompleksowe w tematyce rekultywacji a także remediacji zanieczyszczonych wód gruntowych - remediacja gleby. Wspomożemy na każdym etapie inwestycji. Zaczynając od projektu, skończywszy na realizacji zadania. Promujemy współczesne technologie, które oszczędzają czas a co najważniejsze finanse. Nasza firma wiecznie pragnie doradzić i szuka bardzo dobrych rozwiązań. Za każdym razem potrafimy pomóc w wyborze i realizacji zadań. Zapraszamy.
Visit Judyta Anna's
Visit the RocketReviews.com Who's Who directory.
Today's Featured Photo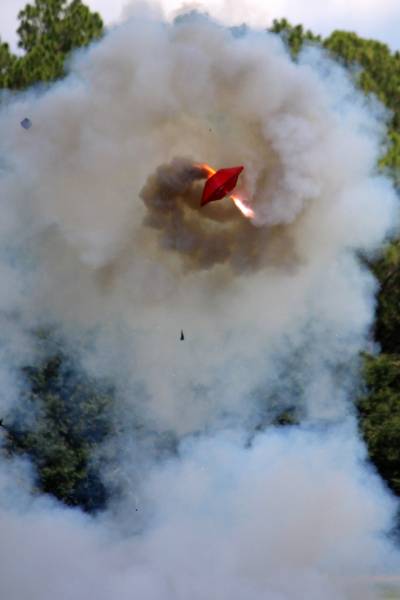 Rocketry Deals
Click a column header (Product Name ...) to sort the table by the selected column. Click the column header again to sort in the other direction.
Visit the Rocketry Deals Finder to discover more specials.
Other Interesting eBay Items
| | |
| --- | --- |
| | |
Featured Rocketry Blog Posts
Model Rocket Building: Carded Red Max Build, Part 1, Parts

I've seen a few pictures of "Rocket Families" on the forums. The Red Max is a favorite with the Estes Mini Max (BT-50 based), standard Red Max (BT-60 based) and Mega Red Max. Well, how about a smaller BT-5 version for 13mm engines? This one is tiny at just 5 1/4" tall! It performs like a BT-5 Mosquito. At one time I had a little carded Red Max model. It was a BT-5 diameter with a Micro Max engine mount. I lost it somewhere along the way and wanted to make another one. After a few searches I couldn't find it. I thought it might be at Wayne Hill's Rocketry Blog - CLICK HERE There are many ...


[Read More in This Series]

---
Model Rocket Building: Goony X-15, Part 1, Parts

In the past I bought a few of the Quest X-15 Parts packs. In the pack you get everything except the engine mount, main body tube and parachute. I figured with some BT-60 based parts I could make a good goony version. I raided the spare parts drawers. I found an Alpha style nose cone and a length of BT-60. I think the main reason people buy the X-15 parts pack is for the decal sheet. It is a water slide sheet with lots of white decals on it.


[Read More in This Series]

---
Rocket N00b: North Coast Rocketry SA-14 Archer - Unboxing

I recently received a little gift - one of the rockets on my wish list - from Matt Steele, of North Coast Rocketry . North Coast, who make mid power rocket kits and some accessories, is a sponsor of The Rocketry Show podcast, and as part of that sponsorship, Matt sent us some rockets to try out. I've had my eye on an SA-14 Archer for a long time. I'm doing a video build series on The Rocketry Show's YouTube channel . I started with the following unboxing video. I'm uploading the first build video later tonight, once I'm done editing. Here's the first video. Follow me on Twitter . Like my ...


[Read More in This Series]

---
Model Rocket Building: Estes Photon Probe Build, Background

The original Estes Photon Probe was only around for two years, from 1991-1993. I have two kits, one original from the 1990s and the second from 2009 when Estes started their "Classic Series. The older kit was #2043, the reissue kit is #3026. Both kits will be built at the same time, I'll be making comparisons between the two. There are some differences. I always thought this was a sister kit to the Photon Disruptor that came out in 1976. Maybe it's the black and white decor with the that orange (or pink or purple) center section. Both designs are BT-55 based and about the same ...


[Read More in This Series]

---
Model Rocket Building: MPC X2 Invader Build, Background

Why another MPC branded model? I needed some ST-7 tubing and ERockets.biz are the only vendor left that carries it. The MPC kits are on clearance at $5.00. The box still proclaims: "Flys up to 260 feet!" Every different model design in the MPC lineup says the same thing. My MPC Red Giant (another Sky rocket re-brand) did get to 427' with an Estes C6-5. Besides that, Warner Brothers characters are a favorite of mine, even thought this model looks nothing like the Duck Dodgers cartoon rocket seen at the right. Sometimes it's a nice change to put together an easy one. I find these kits ...


[Read More in This Series]

---
Today's Featured Video
View our collection of about 5,800 rocketry videos.
Latest Blog Posts

Visit the RocketReviews.com Blog for more rocketry news and information.
Latest Reviews

Latest Builds

Web Search