Construction Rating:






Flight Rating:






Overall Rating:





Contributed by Tim Doll
Brief:

The Caveman "Der Red Max" is ostensibly a clone of the classic Estes "Der Red Max", first released in 1971 as part of the Estes Citation line. Although it is really just a simple 3FNC rocket, the politically incorrect, silly "Hogan's Hero's German" humor and skull & crossbones motif made "Der Red Max" a popular, fun rocket. The Estes Der Red Max was discontinued in 1986, however cloning Der Red Max is relatively simple since most of the parts are readily available - only the decals and nose cone are not currently available as individual parts from Estes. The decals are available from Tango Papa, the PNC-60AH nose cone is a litt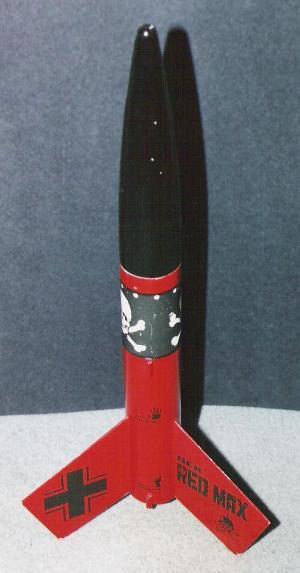 le trickier (it was in the now discontinued Estes PNC-60B nose cone assortment - many low traffic hobby shops still have some) however the Estes Mean Machine uses the same nose cone if you don't mind doing a kit bash. On the other hand, there is something to be said for the simplicity of getting everything together in one box, so I gave the Caveman Der Red Max a try.
Read the rest of the review ...