Construction Rating:






Flight Rating:






Overall Rating:





Contributed by John Bergsmith
Brief: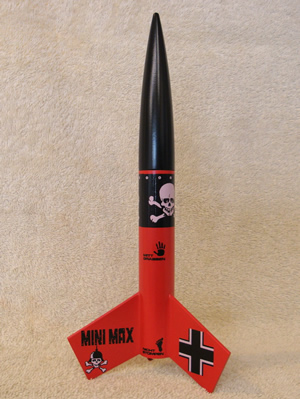 The Estes Mini Max is a smaller version based on the BT-50 of the Estes classic Der Red Max. The Mini Max is designed with a 13mm motor mount making it powered by Estes mini engines, and can reach altitudes in excess of 300 feet. As designed, recovery is accomplished with the included streamer.
The new Mini Max has all the great looks of the classic version, right down to the really cool skull and crossbones decals. Like many of our new and classic kits, the Mini features a balsa nose cone, laser cut balsa fins and waterslide decals.
Read the rest of the review ...