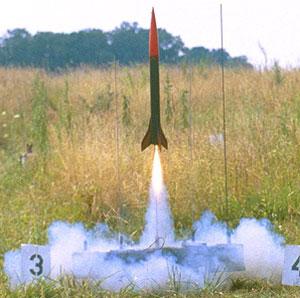 Brief:
The Initiator is a single staged mid power rocket designed to fly on 29mm E-G motors (RMS and SU), as well as some 24mm motors (RMS and SU) with the supplied adaptor. This is an excellent kit for people making the jump to mid-power from model rockets.
Construction:
The kit contains:-
1 body tube (2.6 inch diameter),
A 29mm motor tube, nose cone,
Three sturdy plastic fins,
Motor hook,
Two centering rings,
Fin lok components,
Labrynth ejection baffle system,
Eye hook,
Elastic shock cord,
nylon parachute.
All components were in solid condition, and seemed very high quality. I did notice some pits and scratches in the nose cone, but nothing some filler and sanding couldn't handle.
Construction of this kit was an absolute breeze. Almost seemed too easy. The instructions were in a very logical order, and will guide even the greenest of rocketeers to a successful build of this rocket. I built my rocket stock with CA, and had no problems. Starting with the motor adaptor, progressing to the motor mount, ejection baffle, than recovery and final assembly, everything went very smoothly, and the directions made perfect sense. The only thing that can tend to cause some issues are the fin-lok rings mounting to the motor tube. Aerotech kits are designed to rely on the fit of the parts - not the bond - for strength of the overall rocket. As a result, some of the parts fit very very tightly. The fin lok rings are a prime example of this. It took A LOT of sanding and sweat to get the rings positioned correctly on the tube, and the ends of the motor tube got a little dinged up in this operation, but it's worth it for how easy it makes fin assembly. I found that using a rubber jar-opening pad made this procedure much easier on the hands, as the fin loks can tend to hurt the hands a little bit.
Once the rings were in place, the centering rings went on, followed by the shock cord, and in it went to the body tube. Aerotech has probably the easiest and most reliable fin mounting method I've ever seen. Simply snap them into the fin loks (make sure they click. Can take some pushing, but not too difficult), and you're all set. Love it!
The only deviation I took from the instructions is to add fillets to the centering ring/body tube joints with 30 minute epoxy. I did this mostly because I'm paranoid, not because I felt it really needed it. Also, I did epoxy fillets on the fin/body joint after the first flight. Because of the swept back fin design, that joint takes a lot of stress. I found after my first flight that the body tube was starting to separate and tear from the stress, so I put an epoxy fillet on that joint to help strengthen the tube there. No problems since.
Finishing:
Finishing was not too difficult for the Initiator, just take time to fill the somewhat deep tube spiral. I deviated a little from the suggested paint scheme, using pearl black instead of the white. The rest is what is recommended. The decals went on without too many problems, just a few air bubbles here and there (which is typical for me - I have no patience...). The result is a solid looking rocket that anyone can be proud of.
Construction Rating: 5 out of 5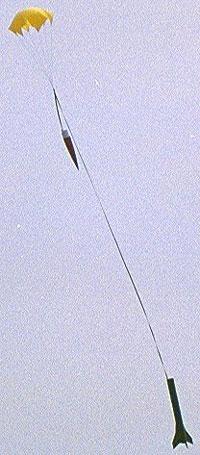 Flight:
I have had three flights on my Initiator, and all have gone perfectly. I got mine in the starter set with the RMS system. First flight was on an RMS E16-4W. This flight was good - straight boost. Rocket started to backslide for about a second before ejection. Parachute *popped* open, and the rocket recovered perfectly. Second flight was on an RMS F40-7W. Fast, straight boost with minimal weather cocking. Awesome rocket/motor combo! Rocket arched over, and ejection popped the parachute for a perfect recovery about 50 yards from the pad. Third flight was on an F20-4 econojet. This flight was nice, smoky, and loud! Once again - perfect ejection and recovery. Once motors are available, I plan on an F52, and maybe a G33.
Recovery:
A lot of people complain about the elastic type shock cords, but for this application, I think it suits the purpose. The cord attaches to the top of the baffle, and is not subjected to too much heat as a result, and the length is more than adequate. After three flights, I see no wear at all on my cord. The supplied parachute gives a nice descent rate. A little on the fast side, but not enough to cause damage on recovery.
Flight Rating: 5 out of 5
Summary:
All in all, I think this is an absolute perfect rocket for someone getting started in larger rockets. Motor retention being included makes the transition much easier, and this kit is actually a lot easier to build than a lot of my Estes kits. The fins are a snap (no pun intended), and the whole thing is practically fool proof, as long as you read everything and don't rush it.
Overall Rating: 5 out of 5