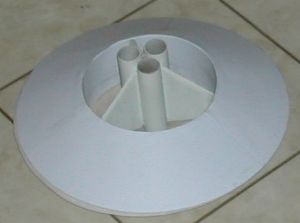 Brief:
When he was Beta-testing his 12" saucer line, Art graciously provided sent me several sets of blank white shrouds for experimentation. With the scarcity of 29mm AP motors, I decided that three E9's would be cool, so I modified one stock 'kit' for a 3 x 24mm mount. Before reading this review, I suggest you first read my review on the stock Fluorescent Green Flying Saucer.
Modifications:
This was a straightforward build. I started by building the body of an AAW 12" saucer using the stock instructions. [Told you you'd need the read the other review ;-)]
I decided that I wanted a central launch lug, and decided a longer lug was required. Also, because there is not enough extra fin stock to make the larger fins required to extend to the ¼" lug, you will have to provide your own. I used 1/8" balsa, but you could use 3/32 or larger plywood also. I computed the distance between the inner core of the saucer and the lug, and extended the stock fin template accordingly.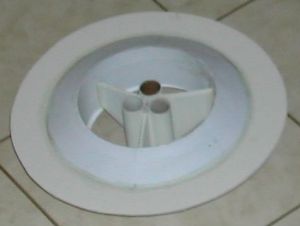 When building the fin can, I found something interesting. Three 24mm tubes and the three 1/8" fins fully covered the circumference of the lug. I had been worried about getting the spacing right, but that worry dissolved. For this reason, I recommend 1/8" balsa over thinner plywood.
I filled the fins with Fil'n'Finish and painted the fin can flat white. The white shroud is not decorated, but was sealed with clear enamel.
Construction:
One AAW 12" saucer kit
1/8" balsa fin stock
Three 24mm motor tubes, 4" long
One ¼" LOC launch lug, 3.5" long
Flight:
As mentioned earlier, I used three E9's, which were lit with Igniterman igniters. I flew this as the second in a sequence of back-to-back saucer flights. Of the three flights, this was the smokiest. The boost was a little wobbly, and the saucer came in nose first.
Summary:
Art's saucer kits are cool, and I found that they provide a good opportunity to experiment with other motor configurations. The 3 x 24" mount worked out nicely on a 12" saucer.