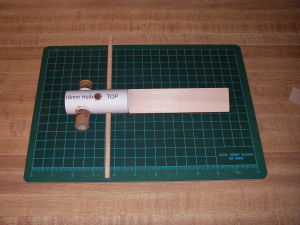 Brief:
This is an extremely simple monocopter design that uses a section of 29mm motor tubing as the central hub.
Construction:
The parts list:
3/16" Basswood sheet
29mm tube
BT-20 motor mount
¼" dowel
¼" launch lug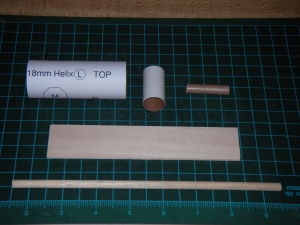 This kit requires Elmer's Glue All, and an X-Acto knife with a new #11 blade. It's almost so easy that it could be considered ARF (almost ready to fly). You start by cutting the pre-marked holes from the 29mm tube. The patterns are polygons so this involves multiple straight cuts. These are best accomplished by starting inserting the tip of the blade at one vertex with the cutting surface directed along the line. If you carefully insert the blade the rest of the way, the cut will be made.
The parts are all inserted and fillets are applied inside and out. Because the holes are supposed to be snug, I found it helped to insert a motor in the motor mount when it is installed.
I'd recommend waiting until these fillets at least partially set before proceeding...but I didn't. The wing fits in the end of the tube and needs to be trimmed slightly. The fit should remain snug and internal fillets are again applied. I checked several times as the glue set to ensure the wing was aligned properly and was straight.
Finishing:
Art says to apply two light coats of enamel to protect the kit from moisture. I used Helmsman Spar Urethane as a clearcoat.
Construction Rating: 5 out of 5
Flight:
You form a thrust ring with masking tape and friction fit the motor so it won't fall out. The motor is oriented with its nozzle down. If you put it in backwards, you will win closest to the pad (don't ask). You need a sturdy pad with a short ¼" rod (1" or so). Art provides plans for a suitable monocopter pad in the instructions.
A C6-3 gave this little monocopter a nice ride.
Recovery:
After burn out the model quickly slows and tumbles to the ground.
Flight Rating: 5 out of 5
Summary:
Art's hit another home run with the Helix monocopters. They are simple, elegant, and fly great. It's the easiest way I know to get into monocoptering.
Overall Rating: 5 out of 5