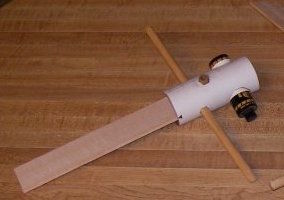 Brief:
This is the 24mm version of Art's Helix monocopter. It will fly nicely on any 24mm short delay, plugged, or booster motor.
Construction:
Parts list:
1/8" Basswood sheet
38mm tube
BT-50 motor mount
3/8" dowel
¼" launch lug
If you have built one Helix, you have built them all. I know that sounds corny, but they all have the same basic components and construction techniques. This kit requires Elmer's Glue All and a X-Acto knife with a new #11 blade. You start by cutting the pre-marked holes from the 38mm tube. The patterns are polygons so this involves multiple straight cuts. These are best accomplished by inserting the tip of the blade at one vertex with the cutting surface directed along the line. If you carefully insert the blade the rest of the way, the cut will be made.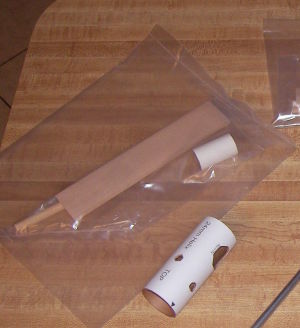 The parts are all inserted and fillets are applied inside and out. Because the holes are supposed to be snug, I found it helped to insert a motor in the motor mount when it's inserted.
Finishing:
Art says to apply a light coat of enamel to protect the kit from moisture. The first flight was going to be at NARAM-50, so I actually painted mine this time.
Construction Rating: 5 out of 5
Flight:
You form a thrust ring with masking tape and friction fit the motor so it won't fall out. The motor is oriented with its nozzle down. You need a sturdy pad with a short ¼" rod (1" or so). Art provides plans for a suitable monocopter pad in the instructions.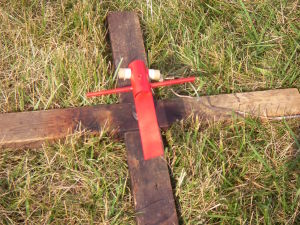 I flew mine on an E9-4. It flew great and the ejection charge fired close to apogee.
Recovery:
In my experience, the smaller monocopters and Helices merely tumble.
After burn out this 24mm model tumbled for a short period before beginning to autorotate.
Flight Rating: 5 out of 5
Summary:
Like the other Helices, this kit is easy to assemble and flies well. I like this 24mm version more than its smaller counterparts. The 24mm option allows for the long burn E9s and provides a more satisfying sound. I also liked the fact that it began to rotate during recovery.
Overall Rating: 5 out of 5