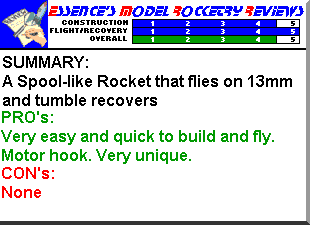 (11/01/04) I find Art Applewhite's U.F.O.-type rockets to be outstanding for front yard flying. His newest addition is actually more of a Spool Rocket than U.F.O., but incorporate many of the same building techniques. So I added a 13mm Hourglass Rocket to my existing Art Applewhite Rockets collection.
The kits come in a variety of colors (as usual) and my particular one is bright orange. The kit includes cardstock to make the cones, foam board for the top and bottom, a 13mm motor tube and motor hook. All that is need to build the rocket is a sharp hobby knife, cello-tape and some white glue.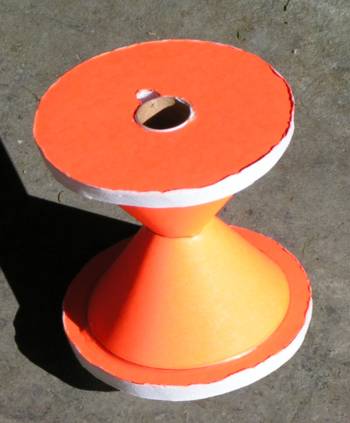 CONSTRUCTION:
The instructions are printed on a single page (both sides) of 8½ x 11" paper. There are a number of B&W photos to assist in building the kit. The instructions are excellent, although I did find one error which made me do a double-take. On page one the header says, "13mm Hourglass Rocket Assembly Instructions". Flip it over and on page two the header says, "24mm Long Hourglass Rocket Assembly Instructions". The text was for the 13mm, so just a cut-and-paste issue as Art was putting together kits.
As I said, assemply is simple. Form two cones. Cut out the top and bottom. Tape hook to motor tube. Cut on the foam covers. Glue together. Done.
Overall, for CONSTRUCTION I would rate this kit 4 ½ points. My only complaint is that both sides of the foam board should be covered with colored card stock for looks.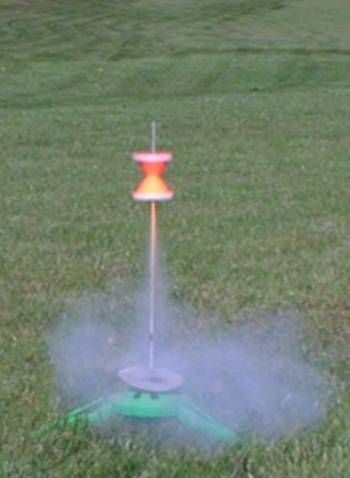 FLIGHT/RECOVERY:
Art Applewhite recommends flying this Hourglass on 1/2A3-2, A3-4, A10-3, A10-P.
I flew mine four times on a pack of A3-4's.
The flights are fast and interesting. I think it comes of the rod straight under thrust, but it seems that as soon as thrust stops it starts to spin while continuing to apogee. Then continues to spin on its way down.
It's an interesting flying rocket and so I have added a video to try to let readers understand my comments. There is really no other way to do it.
Recovery? Tumble and always close to the pad.
For FLIGHT/RECOVERY, I would rate this rocket 5 points. I'm not sure how to rate Flight and Recovery because it is so fast. Then it spins up to apogee and then down to the ground. It seems to do what it is designed to, so we'll say perfect. If nothing else, it gets everyone's attention.
I give the rocket an OVERALL rating of 4 ½ points. Fast and fun. Enough said.