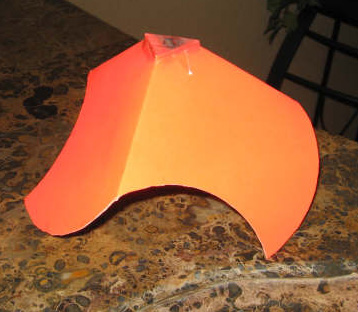 Brief:
A very simple rocket that is capable of EXTREME spinning! This review is for the super scimitar.
Construction:
My Scimi (yes i call scimi, prnounced like semi) is florecent red but looks more like some shade of orange. Still happy. It comes printed on two sheets of cardstock and can be built in less than an hour. I ordered it along with a Green Stealth. You choose your color.
The intructions are very clear. There are three pages: two focusing on contruction and one on flight prep. The rocket is very simple. You can choose to either make it fly on 18mm or 24mm motors. There are only three parts to cut out: the top, bottom and motor mount. The first step is choosing the 18mm or 24mm mount. I chose 18mm. You cut on the lines guiding for each size. For the top and bottom, I would recommend using scissors instead of a knife. Once the top is cut, you score the dashed (fold) lines and then fold the top so that the printed side is inside the body. Then you cut out the bottom section and glue it in, making sure that launch rod holes line up. Then you form and glue in the motor mount. Done. It is so simple.
PROS: fast, easy construction, clear instructions, choice of either 24mm or 18mm mounts, fast customer service from art.
CONS: none noted.
Finishing:
The card stock comes pre-colored unless you choose white. Art reccomends putting on some clear coat, but I passed.
Construction Rating: 5 out of 5
Flight:
The scimitar was flown the same night about two hours after constuction. The plan for the night was to use one pack (three) of motors. Flight prep is super quick: Insert motor, adding masking tape if needed, then insert ignitor and put 'er on the pad. Art says you should put a ball of wadding in the open end of the motor held with masking tape to prevent burning. An Estes C6-3 was used. After pressing the button, Scimi lifted and about 5 feet from the ground started spinning like a helicopter!!! IT WAS INSANE!!!! SO COOL!!! The C-engine seemed to burn longer than usual which doubled the cool factor.
Recovery:
After burn-out, Scimi went about 5 more feet and flipped over. About a second later the ejection popped and Scimi was still spinning when she hit the ground. Landed about 30 feet from pad. Flight was about 100 feet in altitude. Perfect.
Flight Rating: 5 out of 5
Summary:
This is a great value for just $6. You get the option to build two motor sizes in one rocket and get INSANE flights. On a scale of 1 to 10 on coolness factor, it gets a 10. Two thumbs up. And the fact that it builds in less than an hour and needs no finish is the icing on the cake.
Overall Rating: 5 out of 5