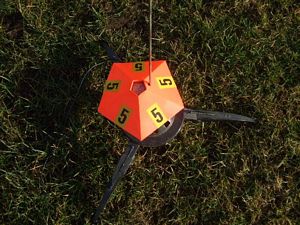 Brief:
The Super Cinco is an all cardstock UFO style tumble rocket. The rocket kit allows you the choice of either an 18mm or 24 mm motor mount. I had built three 13mm Cincos before from a free rocket that was sent out from a UK model shop and two others from Art's website.
Construction:
The parts to the rocket kit consists of two sheets of bright orange card with the rocket printed on them and two sheets of very comprehensive instructions complete with step by step photographs for each stage.
Art's instructions and guidelines for how to build the rocket means that provided you follow the instructions, you get a perfect rocket every time.
Using a steel ruler and a very sharp model knife, you cut out the three pieces for the rocket, which are the top, bottom, and motor mount. After these are cut out, using a blunt pointer, such as a ballpoint pen to score along the lines, you make the creases to fold the Super Cinco into shape.
The three pieces easily glue together and in less than twenty minutes from opening the kit the rocket is completed.
Finishing:
As the cardstock is already colored, then is no need for finishing, although a spray of clear coat is recommended for protection against moisture. I added five number 5 stickers, one to each face, and then added two coats of clear varnish.
As the rocket uses tumble or air brake recovery, prepping is reduced to putting a motor in. With motors that have ejection charges, it is suggested that a small amount of wadding is taped into the top end of the motor.
Construction Rating: 4 out of 5
Flight and Recovery:
First flight was with a D12. The Super Cinco shot off the pad quite quickly considering the frontage. At burn out the Super Cinco inverted and recovered at a steady rate. There was some charring to the engine block
Flight Rating: 4 out of 5
Summary:
This is a great rocket. Part of me would like to see an actual internal launch lug and a "proper" engine block, but that would increase the cost of the rocket and make it a tad harder to build. Also one of the appeals of this rocket is that it is all cardstock.
Overall Rating: 4 out of 5