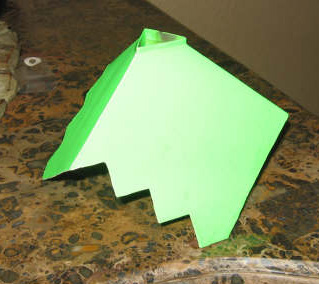 Brief:
This is a cool high-flying rocket for such a draggy design. It is made with slow spinning in mind and can be built for either 18mm or 24mm. I chose 18mm.
Construction:
You get two pieces of cardstock and 3 sheets of (very clear) instuctions. Construction goes the same as the qubit and scimitar. You just have to cut jagged edges instead of curves such as the scimitar or straight edges like the qubit.
Simple. Very simple. You get no tubes with this kit, just cardstock. There are only three pieces to be cut out: the main body (top), bottom and motor mount which you can choose 24mm or 18mm. The motor mount is triangular not round. Contruction is super simple and you will not likely run into a single "gotcha" with this or the scimitar. Just form the top, form and glue in the bottom and form and glue the motor mount. All done.
Finishing:
I ordered my stealth on green cardstock so no finish was needed but is reccomended to give it some clear coat but I passed.
Construction Rating: 5 out of 5
Flight:
The stealth flew once about 1 hour after constuction was finished. The stealth was preped with a C6-3. It blasted off the pad and with a slow spin to about 300-400 feet.
Recovery:
After burn-out the stealth quickly slowed and came down nose first, spinning along the way. It landed about 300 feet away.
Flight Rating: 5 out of 5
Summary:
I like the stealth. Even though it only flew one time I can rest assured that it will be a great performer like the rest of art's rockets.
Overall Rating: 5 out of 5