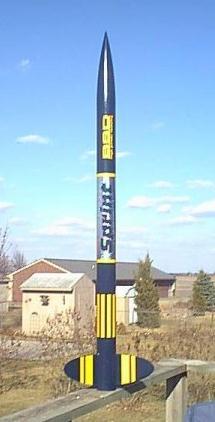 Brief:
This is the newest version of BSD Rocketry's Sprint. Larger in size, 3" diameter by nearly 58" long. Three elliptical fins and an approximately 11" payload section. Made for mid and high power loads, a nicely versatile rocket.
Construction:
The kit includes pre-cut and sanded 3/16" aircraft quality plywood fins, high strength airframe tube and coupler, bulkhead plate, high quality hardware package, 29mm motor tube, plastic nose cone, 30" nylon parachute, and a highlight for a great look are computer designed and cut vinyl decals. Recovery also consists of a 1"-wide nylon strap several feet long to clear the body tube, then an additional elastic shock cord 10 ft in length.
Two centering rings are again 3/16" high grade plywood, also included a 1/4" launch lug, AND rail buttons so which to use will be your choice. One body tube for the booster section and one for the payload bay.
Oh and almost forgot, a complete motor retention system is also included, so no having to worry about friction fitting with tape, or additional costs to purchase retention components.
Instructions just can't be beat with this kit. Extremely detailed so that the beginner in high power can easily follow. Both written, and multiple pictures, not illustrations but pictures make everything very easy to follow.
Construction is fairly basic and easy, especially if you have any midpower kits under your belt. Follow the directions which are in a very logical order and it's a breeze. Suggested adhesives are 12 and 30 minute epoxies.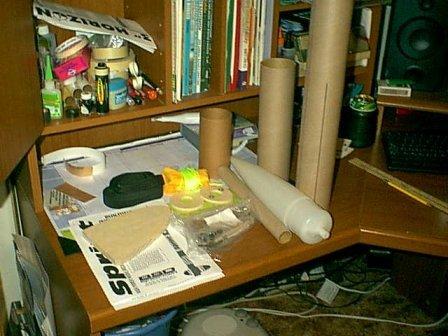 Construction begins with assembling the motor mount. One 29mm motor tube and two plywood centering rings. Before mounting the centering rings you need to drill the rear centering ring and install the motor retention nuts.
After this is complete you move on to the booster section. This part probably contains the hardest part of construction, and that's cutting the booster tube slots for the fins. Directions are clear on how to do this and the tube is pre-marked for your cuts. Take your time and use a sharp hobby knife and it's not bad. Any little oopses will be covered up by the epoxy fin fillets you apply later, so don't get too worried about it.
After completing this it's time to test fit the motor mount. When the fit is sufficient it is then installed using 30 min epoxy. NOTE: This is about the only possible gotcha I found with the kit, but it is covered in the directions. Make sure the motor retention nuts are not lined up with a fin slot, there will be screws going through those and they can't run into an installed fin.
If however you do make this mistake anyway, as you are progressing too eagerly, all is not lost. (yes I speak from experience) I simply used a small drill bit and drilled through the nut and into the fin material. Causes about a half inch hole into the fin, but overall did not seem to effect anything, and now works fine. For some reason on subsequent kits I quickly remembered to do it right.
While installing the motor mount you'll also be installing the Nylon shock cord strap which is epoxied into the unit through the upper centering ring.
Next the fins will be installed through the slots and epoxied onto the motor tube. Before installing you'll need to shape and bevel the fin edges to get a good airfoil. On my kits I've used both a belt sander and a Dremel, whichever is your preference should work fine.
After prepping the fins it's time to install them, and a fin alignment guide is included to assist with this step. The fins are then epoxied to the motor tube through the body wall. After that has set, fin fillets are added to the body tube fin joint.
I chose to go with the quarter inch launch lug as launch rods are more available in my area than rails. This was installed first, not until having completely finishing the rocket did I notice my lug was on crooked, so it had to be taken off and reinstalled. Trust me it's easier to do it right the first time.
Next the payload section is assembled using the other piece of tubing and bulk plate. Also included eye bolt to be installed in the bulk plate for shock cord attachment, and a quick link.
Throughout the construction it was easy to see parts were of very good quality, and fit very well. I did do a little sanding on the centering rings just to get the fit that I wanted.
Upon completion I could tell of all my projects so far this was different and a step up, the bird felt very nice and was very sturdy.
Throughout the instructions there are various tips and suggestions to teach you how, or show you possible new ways to make each step easier. A nice touch.
My finished weight came in at 34 ounces with everything in the rocket except the motor.
Finishing:
Finishing on this bird is fairly easy as it's a solid color, and the decals are what set it off.
I'm not annoyed very much by spirals, but even so the spirals on these tubes were very minimal, 3 coats of primer, (my standard) and they were all but gone.
The rocket was then finished in Krylon Royal Blue, for the finish that I wanted.
And finally was the real treat, the decals, pre-cut vinyl, and very sharp, after applying they do look like they are painted on. I did have a slight problem with the large silver decal that I received, it had a couple of creases in it. (I may also have been too picky about it) One email to Mark at BSD and a new one was sent right out at no charge.
Construction Rating: 5 out of 5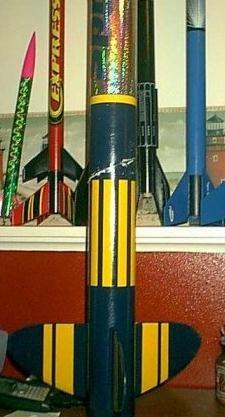 Flight:
I went to a launch on 4-26-03 with the intent of getting this bird, and my new BSD Horizon in the air.
I ended up with an opportunity to attempt my level 1 certification and went for it with this bird.
The only motor available was an AT H238T. I took it and ran. After prepping the rocket it was placed on the pad and ready to launch.
At ignition the rocket shot off the pad, made it about 300 feet and the ejection charge fired. Unfortunately we had a delay grain blow by. The weakest link in the entire rocket was the elastic shock cord and it let go, the rocket then coming down in three parts. Parachute and shock cord as one unit, the booster section, and the payload section.
The payload section came down horizontally and suffered no damage, the booster came in ballistic and kinked the body tube above the fins.
It was obviously on it's way to a beautiful flight by the way it looked, the motor was the problem, not the rocket.
So sure am I that this thing is being repaired, and will be used again for my next cert attempt, even though I have two others I could use.
The day after the launch was a Sunday and I emailed BSD ordering new parts, for repairs. They were mailed out Monday and arrived two days later, repairs have begun.
Recovery:
Pros: This bird for the most part held together having suffered a dramatic motor CATO. Some part has to be the weakest link and I think in every kit it's the shock cord. Had it been too strong it would have only zippered halfway down the tube with as much thrust as this was under at CATO.
I'll update the flight logs after the next flight in the near future so you'll have a better idea.
With only the first 300 feet to judge the flight on I'll still mark this kit very high, as I'm confident of what would have happened if the motor hadn't malfunctioned.
The only suggestion I would have for this kit is a Kevlar® sleeve for the nylon strap that is attached to the motor mount for added protection.
With dog barf wadding and a Top Flight heat shield none of my recovery components singed at all, the Kevlar® would only be added security.
Flight Rating: 4 out of 5
Summary:
The rocket from the instructions provided, to the quality and fit of the parts were all top notch.
On top of that, problems I had like the decal, or need for replacement parts after the motor cato'd were all immediately handled by BSD. Their service was exceptional in my experiences with them.
I've only done a few reviews, and I'm very critical with rating systems, I won't give out a 5 very often.
However my overall experience with this kit and it's quality, the great look it possesses, and the exceptional service I received from BSD I'll definitely give a 5 here. Overall I really can't think of anything else I could ask for ....
Overall Rating: 5 out of 5