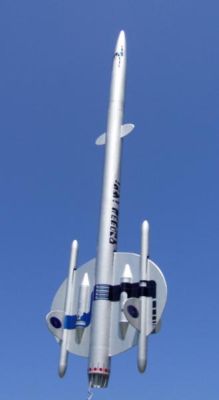 Brief:
The UFO Invader represents my third attempt at cloning one of the four available Centuri Super kits. Like all the Super kits, the UFO Invader is a single stage model rocket that recovers with a dual parachutes in a unique level configuration. The original kit was classified as a skill level three kit. (see Larry's other Centuri Super Kits)
As described by Centuri in their 1977 Catalog:
"The year is 1980 and at last the existence of flying saucers is a proven fact. First sighted in the mysterious Bermuda Triangle, the U.F.O. Invader has been observed by countless eyewitnesses. The Invader is a submarine as well as a deep space ship...able to travel on the ocean surface, buoyed by its wing pods. It submerges to a hidden undersea base where the aliens perhaps study Earth and its people. Little is known about the aliens, but we know this: we are not alone in the universe!"
Imagine, all the drama and a cool rocket for a mere nine bucks in 1977. Of course one can expect to spend every bit of that amount and a bit more in cloning this kit
Construction:
Here is the list of parts need to clone this great kit:
1 PNC-13X nose cone 6.4"
4 PNC-71 nose cones 1.0"
4 PNC-51 nose cones 1.0"
1 ST-13 Upper body tubes 3.0" (BT-56)
1 ST-13 Mid body tubes 8.0" (BT-56)
1 ST-13 Lower body tubes 12.0" (BT-56)
2 ST-7 Tank body tube 3.0" (BT-20)
2 ST-5 Pod body tubes 8.0" (BT-5)
1 Launch lug 8" long, 7/32" diameter
1 Coupler HTC-13 1.5" (BT-56 Coupler Semroc Corp.)
1 Die-cut fiber sheet 1.75"W 7.25"L .025"T (Trace from pattern)
1 TR-7 Thrust ring .4" long (Standard thrust ring for 18mm Motor)
1 EL-1 Engine lock (Standard Estes Engine Hook)
1 Die-Cut fiber sheets 4.25"W 10.25"L .055"T (picture matting board or 1/16" balsa)
1 Decal sheet (print own, or buy from decal vendor)
1 Shock cord .125" x 38"
2 20" Parachutes
128" Shroud line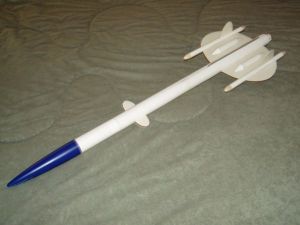 As in previous cloning projects, the first stop is downloading the very large instructions from JimZ's web site. All fin templates are included in the instructions. Like the SSV Scorpion, this kit utilizes the .055" card stock for all fin parts. Having already built my two previous Super Kits using this card stock, I had plenty card stock left over from previous projects. My card stock of choice is the matting board available at my local Hobby Lobby.
With fin material acquired from Hobby Lobby, I need a source for the tubes. Over the years I have amassed a healthy stock of tubes. None of the tubes in the UFO Invader are hard to acquire, as all are available from several vendors. My vendor of choice for price, service, and quality is the Semroc Aeronautics Corp. The UFO Invader qualifies as being a nose cone intense kit. In all, nine nose cones and one special connector is needed to build this kit. Once again I turned to Mike Schmidt of Moldin Oldies. Mike sells the main nose cone and special connector as a set for $7. Mike also sells the other eight pod nose cones at one dollar each. In all the complete nose cone set of nine plus the special connector will set you back $15 in Mike's Moldin Oldies store.
Unlike my SSV Scorpion, I decided not to scratch build the special connector. I also decided to modify four Semroc four BNC-512 nose cones I already had on hand. Looking back, I wish I had chosen to scratch built the special connector (more on that later).
As in my past clone projects, I transferred fin patterns to the matting board using carbon paper. Instructions are clear and easy to follow. After transferring the fin tracings, I free hand cut out two sets of the tracings with a very sharp pair of scissors. I then soaked the entire fin matting board parts in thin CA to stiffen them. After that I cleaned the edges on a belt sander. The instructions also suggest cutting these parts from 1/16 sheet balsa. I chose not to use balsa because of its lack of durability.
As in my previous attempts, I addressed the need for an 8" launch lug by using another 3/16" x .014 seamless aluminum tube purchased in packs of three from Hobby Lobby. Care in cutting will provide an excellent substitute.
Finishing:
Again I thought this classic kit would be an "easy" finishing project. The all silver glossy coat will hide many small blemishes.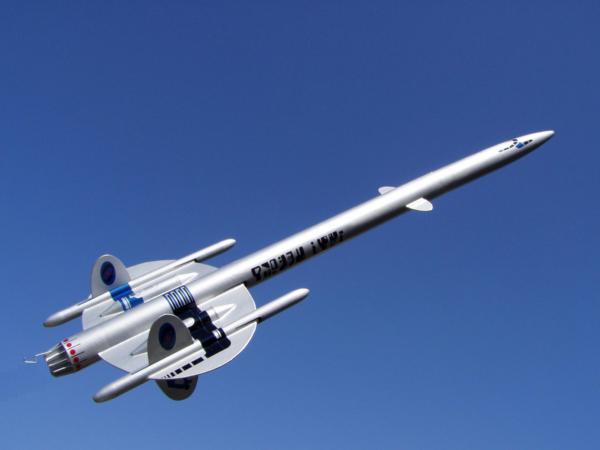 As in the past, I first sprayed every thing with three coats of primer/sealer paint. My personal favorite is Kilz. This is what helps the matting boards finishing characteristics excel. I then sanded this before painting with a finishing color. The biggest problem I would encounter in the finishing of the Invader was trying to find a silver or chrome paint that wouldn't react adversely to the finishing clear coat. For this I purchased several cans of silver and chrome paint and painted test patches that I then experimented with clear coats. The failure rate was disappointingly high as many silvers and chromes would dull and lose their luster when the clear coat was applied. I finally settled on three coats of Dutchboy Silver and two coats of Krylon Clear Coat.
For decals, I printed my own on inkjet decal paper available from several vendors on the Internet. Fortunately, a clean copy of the decals was already available on Jim Z's web site.
Construction Rating: 4 out of 5
Flight:
The original kit calls for a C5-3S or C6-3. On my other Super kit clones, I elected to perform a "Magnum D" conversion. However, on the Invader I decided to stay with the original 18mm motor mount so that I could maintain the original tailpipe design.
Preparation is easy with the built in Centuri baffle design. However, I will add a few sheets of wadding to protect against anything that might slip past the baffle.
Motor retention is by the standard Estes Engine hook.
Having successfully cloned three of the four Super kits, I will once again wait till I have finish the complete Super kit set. Then I will them all together in late Spring or early Summer.
Recovery:
Like all the Centuri Super Kits, the recovery harness is quite complex and unique. I chose to use the recommended horizontal recovery method illustrated in the instructions. The UFO Invader appears to not need any additional considerations to prevent the harness from snagging on deployment
Flight Rating: 4 out of 5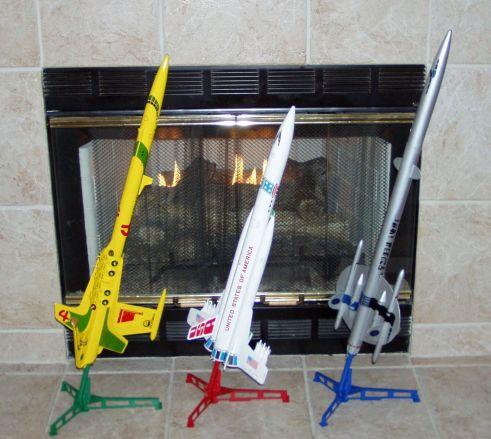 Summary:
When I asked my kids of the three super kits I have cloned thus far which is their favorite, their response is an overwhelming vote for the UFO Invader. They think it looks "cool and alien-like". Personally I wouldn't of voted that way, but it probably rank a strong second.
Overall, I found this kit the easiest to build, easy to paint, but hard to get the paint color results I desired. With three super kits finished, I have begun eyeing the final jewel of the series.
Guess which kit will be my next clone project?
Overall Rating: 4 out of 5