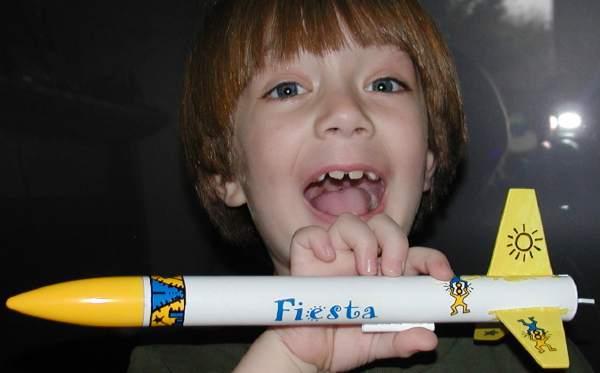 Brief:
Small, single-stage rocket with streamer recovery.
Construction:
1 body tube,
plastic nosecone,
3 balsa fins,
36" x ~1 1/14" plastic/nylon (can't tell which) streamer,
14" x 1/8" elastic shock cord
18mm engine mount with Quest style metal clip (only springier like Estes)
centering rings
water-slide decals
1/8" launch lug
Pros - easily assembled using only white glue (I provided the glue help for my 7 year old, this was the first rocket he assembled). Masked fins to paint yellow after base coat of gloss white (Krylon spray paint), then applied decals and a clear coat to finish.
Finishing:
No cons.
Construction Rating: 3 out of 5
Flight:
First launch was with A8-3, standard wadding with streamer, engine slides in eaily and held with clip. Flew great. Tried B4-x, B6-x, C6-5, C6-7, no problems with any, except that with C6-x the rocket disappears from sight until it comes back down. Almost lost it several times after C6-x launch because we didn't see it come down. We were shooting into wind, and turns out the wind carried it past us without anyone realizing it.
Recovery: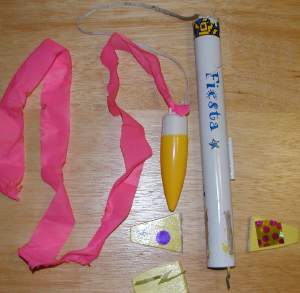 Shock cord is glued inside upper body and has held up well, although currently we can see the 4 bare strands of elastic where the cloth material has burned away. Recovery speed is good, not too fast. Have had fins break off several times, don't think we're getting enough Elmers on them. Will try hot-glue gun for next repairs. For its most recent launch on 5/26/02, I used Kevlar cloth for wadding under the streamer - apparently jammed it in a little too hard, only the nose cone ejected. Apparently came down pretty hard from a C6-7 launch (we never saw it, and wandered around where we thought it might have come down). The boy who found it and carried it back tripped over someone else running back, and may have landed on it - 2 fins came off, and 3rd was loose - can't tell which was landing damage, and which was kid damage. Upper body is also slightly crinkled, consistent with nose first landing. Bottom of streamer was melted, the heat apparently carried thru the Kevlar cloth (both were still in the rocket).
Flight Rating: 3 out of 5
Summary:
I have no bad feelings about this rocket, great little one for higher wind conditions and for nice high shots, the kids love launching it and chasing it down.
Overall Rating: 3 out of 5