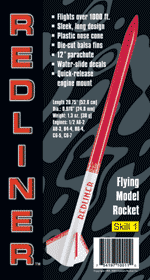 Brief:
Was a great rocket, easy to build, easy to launch, Great for a day of family fun!
Construction:

2 body tubes, both .976"
3 die-cut balsa fins
12" parachute
2 centering rings
Quick release motor mount
Blowmolded nose ogive nosecone
Water-slide decals
Pros- easy to build fast and simple
Cons- waterslide decals haard to use, but still great
Finishing:
No requirements or techniques, easy instructions waterslide decals look good, requires spray paint, very easy.

Construction Rating: 4 out of 5
Flight:
Pros- Exciting adreniline rush, goes extremely high on engine C6-7, so fun and easy to prep
Cons- on C6-7, it goes so high that you lose it. I could not recover it. It landed in someone's back yard probably, lost sight after tracking smoke
Recovery:
??? could not recover after second launch but the first lauch came perfectly down. no damage or wear, nice shock cord, but chared, easy to reassemble. I'd say that is the fasstest thing I've ever seen.
Flight Rating: 2 out of 5
Summary:
Good, but sadly, I lost it. I loved it while I had it.
Overall Rating: 4 out of 5
Other:
BUY SPRAY PAINT IT LOOKS SOOOOOO MUCH BETTER!