3 Stage Cluster Cone
By Art Applewhite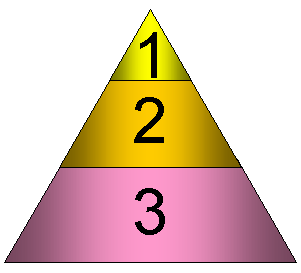 This is a 3 stage, Clustered Cone rocket with 5 motors in it's full power configuration
Stage 1 - Top - 13mm A10-PT
Stage 2 - Middle - 18mm C6-0
Stage 3 - Bottom - 3 x 24mm inline motor cluster, D12-0 center, 2 x D11-P outboard

The rocket is 8" high and 9.25" in diameter at the base. It is constructed entirely out of cardstock and foambacked posterboard using white glue. All 3 stages use ultra reliable aerobrake recovery.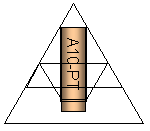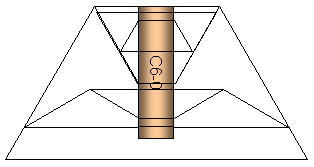 Cutaway Views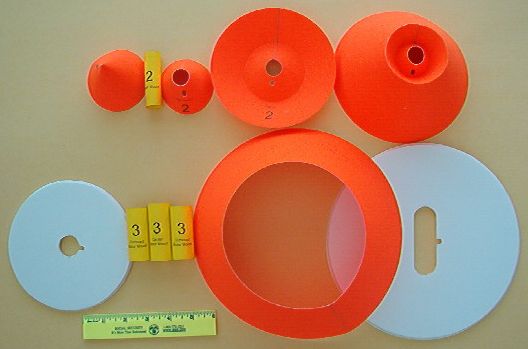 Parts - Stage 1, top leftmost, Stage 2, the rest of the top row, Stage 3, entire bottom row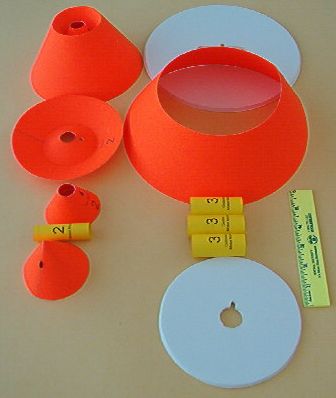 Another view of the parts - Orange = posterboard, Yellow = Cardstock, White = Foam backed Posterboard

Material List

Description

Source

Quantity

Cost

Fluorescent Posterboard

Hobby Lobby

1 Sheet

$0.79

Foam-backed Posterboard

Hobby Lobby

1 Sheet

$1.99

Cardstock 8.5" x 11"

Walmart

2 Sheets

$0.07 ($4.97/150)





Total:

$2.89

Cardstock and foamboard patterns (descon14.pdf)
2 versions were built. The first is a 2 stage version made from 65 lb yellow cardstock and printed on a laser printer. The seconds version is the full 3 stage, cluster made from Orange "Royal" brand posterboard shrouds, yellow cardstock motor mounts and white foam backed posterboard.

Flight Reports

Date

Configuration

Motors

Results

August 21, 2004

2 Stage

Stage 1 - A10-PT
Stage 2 - B6-0

Good straight flight in light winds, good recovery

August 21, 2004

3 Stage cluster

Stage 1 - A10-PT
Stage 2 - B6-0
Stage 3 - D12-0, 2 x D11-P

This is the full power configuration. Good initial Stage 3 boost on 3 "D" motors. Stage 2 ignition was good but Stage 1 separated from Stage 2 in the middle of its boost. Stage 2 continued to fly straight without Stage 1. All stages returned safely because of the ultra-reliable aerobrake recovery method used for all 3 stages.

August 21, 2004

2 Stage

Stage 1 - A10-PT
Stage 2 - C6-0

Good flight with slight weather cocking in a moderate wind, good recovery


Flight Photos
First Flight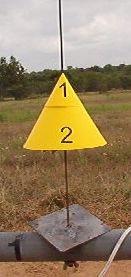 2 stage version waiting on the pad

2 stage version after flight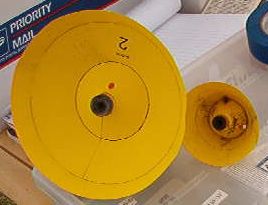 2 stage version Bottom after flight with some minor scorching on the bottom of Stage 1

Second Flight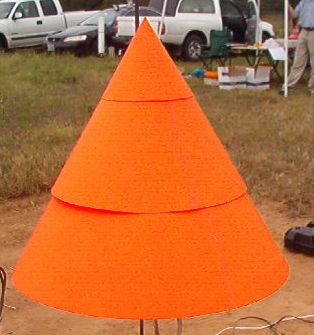 3 Stage, cluster version waiting on pad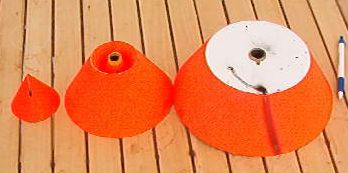 3 stage, cluster version after flight with some minor scorching on the top of Stage 3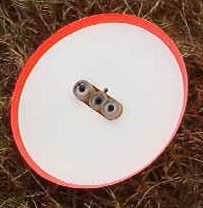 3rd Stage landing

Third Flight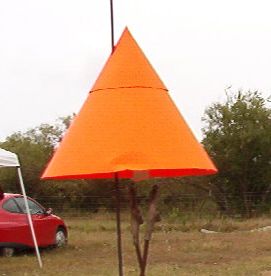 3 stage version being flown in 2 stage configuration using A10-PT C6-0 motors


Art Applewhite - www.artapplewhite.com