Pictured here is the BIG BLUE, flying Corporate colors. This ship was lost with all hands when the navigational and helm computers locked up and the ship flew into a star at full power. Similar circumstances later resulted in the loss of sister ships BIG MAC and BIG ZERO.

CONCEPT The original idea here was to create another ship from the 'Cinderella' world, this time a smallish courier or orbital fighter. After building it, I got to wondering if I could believably portray a very large ship with a very small rocket model.

PARTS LIST

BT-20 6" long (153mm)

NC-20 Estes 'cockpit' style from the assortment pack

BT-80 1" wide (26mm), sliced in half to give you a semi-circle

mini-engine spacing tool a little yellow tube Estes provides to insert a mini-engine block into a BT-5. Or use a 1.75" (45mm) length of BT-5.

mini-engine mount *without* the engine hook

shock cord

streamer

1/8" launch lug about .75" (18mm) long

1/16" (2mm) balsa stock

Rainbow tape aka Prism tape, look in craft or auto parts stores.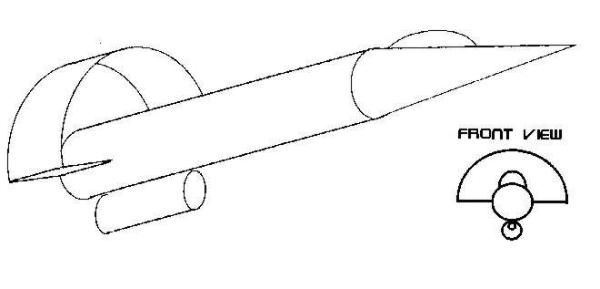 CONSTRUCTION
1. Mark the BT-20 body tube for 4 fins, spaced 90 degrees apart.
2. Assemble the motor mount, glue it into the body tube.
3. Cut out the 2 fins according to the diagram and round the leading and trailing edges. Leave the root and tip edges square.
4. Glue the 2 fins to opposite sides of the body tube, even with the back end.
5. Glue the spacing tool to the bottom of the body tube along the marked fin line.
6. Glue the launch lug inside the spacing tool, making sure it's straight.
7. Glue the BT-80 arch to the fin tips.
8. Make an Estes style shock cord mount and glue it into the front of the body tube.
9. Attach the nosecone.