Vampyre
(
Contributed
- by Ted Phipps)
Here's my entry, the Vampyre. Actually, the original name was 'Ted's Testbed', but someone already stole that name. <G>
It's a simple ringfin and a super stable flyer that gets great altitude on mini-engines. Definitely use a streamer on this one. The chrome strips are muffler tape from the local auto parts store.
Ted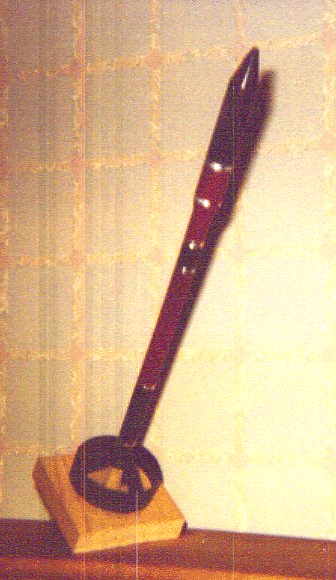 Part Descriptions
BT-5 10"
BT-20 4"
BT-80 3/4"
NC-20 Estes Yankee type (short conical)
Fin stock 1/16" Balsa
Paper transition shroud
CR5/20 centering rings (need 2)
Engine Block
Launch lugs, shock cord, streamer
Notes
The diagrams are (obviously) NOT to scale. The fins line up with the bottom of the body tube, sweeping down and back. You could also reverse them to sweep forward, like the Estes Star Rider. Offset the rear launch lug so that it lines up with the front lug on the transition. Finish as shown in the photo. I used gloss black over the primer, then masked and shot gloss red. Finally 1/8" chrome tape to trim.