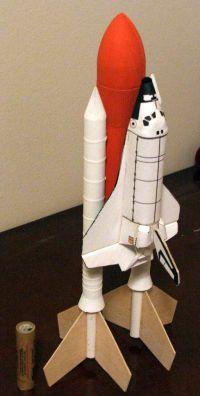 Brief:
This is a single stage "ant scale" version of the Space Shuttle.
Construction:
The kit includes:
2 T-20 SRB Tubes
1 T-5 tube (for fin insert)
1 T-60 External Tank Tube
3 Balsa nose cones (2 SRB, 1 external tank)
T-20 MMT with black fiber centering rings.
Mylar strip for texture on external tank
Miscellaneous hardware including: snap swivel, screw eye, engine clip, launch lug, dowel stock, hinge paper, wrap sheets, balsa stock, plastic trash bag parachute, shock chord, and eye rings.
The kit includes detailed instructions. An attempt at humor is mixed in with the steps. The original wrap sheets came with correct trim brace and trim plate.
Solid rocket booster (SRB) construction is straightforward. The SRBs needs to be constructed prior to cutting out all the wrap sheet templates. 11" by 3/32" strips are needed.
The external tank with motor mount is explained well. The rear orbiter mount should be epoxied for added strength. I suggest not painting the attaching dowels to reduce friction at ejection.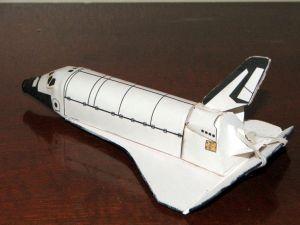 The orbiter consists of a paper and balsa glider. Be certain to follow directions to the letter when constructing it.
Fin assembly slides into SRB for stability. Simple centering rings and fins. The orbiter rides higher on the external tank than the real shuttle
Finishing:
The details on the SRB paper rings, LOX tube, and external tank cable tray add a very nice look to the rocket. The rust color on the external tank was a hard color to match. I used Americana Cadmium Orange.
Basic details such as the payload doors and crew hatch are included in the wrap sheet for the orbiter glider. The only painting needed on the glider is on the balsa fins.
Construction Rating: 4 out of 5
Flight:
The manufacturer recommends B6-4, C6-3, C6-5, and C6-7 motors.
The rocket looks great off the pad and in the glide.
Orbiter separation is unreliable and unpredictable. Long delays magnify the problem (i.e. C6-7). The best motor for this rocket is the C6-3.
SRB Skirts are charred by exhaust during flight.
Recovery:
Simple parachute recovery. Use lots of recovery wadding to protect the trash bag parachute. The shock chord is attached to BT-60 tube with the tri-fold Estes style mount. The eyelet is screwed into balsa nose cone and the snap swivel goes on the parachute.
The plastic bag parachute gets melted quickly even with significant recovery wadding. The "expensive" parachutes hold up to heat much better.
The glider is attached at the elevator. This stressed the attachment to the external tank. The elastic cord is used to pull the elevator up to the trim screw. This also will cause binding at separation if the attachment dowels are painted.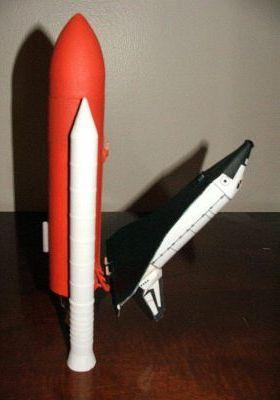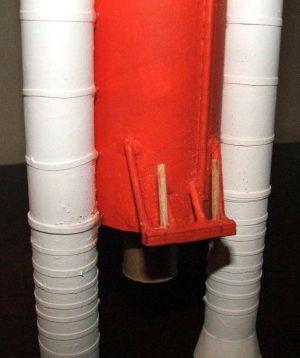 Flight Rating: 2 out of 5
Summary:
No laser or die cut balsa. Some builders may find the pitiful attempt at humor in the directions offensive.
The kit looks great when it is completed.
Overall Rating: 3 out of 5