Intro
One of Estes Industries Beta Series model rocket kits that is a semi-scale version of the United States Medium range Air-to-air Missile. This missile replaced the aging Sparrow radar guided missile, and it is also used in a surface-to-air mode by some NATO nations.

I had seen this kit and I wondered if it flew any better than the Sidewinder that Estes produced. When Wal-Mart clearanced the Kit for $7.50 I had to pick up the model and give it a try. Since the reviews of this kit are highly favorable, I decided to modify the kit to include a Centuri style ejection Baffle. In my mind this serves two purposes, One is to reduce or eliminate the use of ejection Wadding. The second is providing a "stop" to keep the parachute from being pressed too far into the body tube.
Construction
The assembly of this kit follows the well known and highly illustrated Estes instructions. This kit is rated a skill level 1, but is not a first kit.

The only modification to the assembly was to add the Centuri Style Baffle to the tube coupler in the middle of the rocket. I got the idea from the Modified Prowler here on this site. One could use this coupler as an anchor for a Kevlar shock cord as well, but I did not have a suitable length of Kevlar on hand when this went together.
The rest of the kit went together in the usual uneventful way.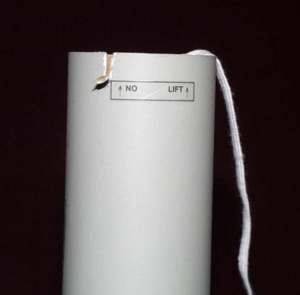 Flight
The first flight was on a C6-3 Estes motor. Since I was not completely convinced of the operation of the ejection baffle, I included two sheets of ejection wadding to make sure that the parachute is not scorched in any way. Since it was slightly windy, I tilted the launch rod about 10 degrees into the wind, and reefed in the parachute half way down the shroud lines with a piece of masking tape. The launch was great, starting out slow and picking up speed rapidly. The AMRAAM then weathercocked into the wind and nosed over and ejected the parachute after apogee. The force of the parachute opening slightly zippered the body tube, which should not be too hard to fix.
Summary
I must say that I am impressed with the function of the baffle. There were no scorch marks on the parachute with the small amount of wadding used. With the obvious advantages of this method I wonder why it is not used more often. I also wonder why, since Estes is owned by Centuri, that they don't implement this into their kits. After all they are using other Centuri components in their releases now.