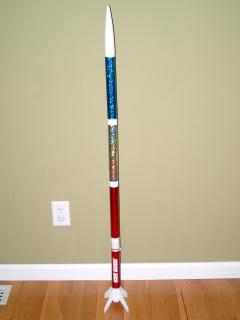 Brief:
6 piece rocket that can be customized in length and fin shape.
Construction:
As a newcomer to model rocketry I have broken and lost many rockets and equipment. One RTF that caught my eye was the Super Shot Deluxe Screw Machine by Estes. I needed a new launch pad so I decided to purchase it. $19 at the local Wal-mart was quite a steal as the retail is around $40. The rocket is a little short of 4 feet tall and actually has sections that unscrew and has 3 different sets of swappable fins. I really like the screw design of the tubes and the different types of fins because they allow the rocket to be customized up to 12 different ways.
The rocket took me about 10 minutes to assemble, it was a snap. (I made it with all 4 tubes for maximum length of course!) All you need is some CA (glue) to hold the body tubes to the connectors, snap on the desired fins, tie on the parachute, and you are done. After prepping the motor and taping my address to the body tube, I left for the launch site. The first launch was on a B6-4, which disappointed me with a height of only around 100 feet. The second and 3rd time I launched it with a C6-5, and of course, it went considerably higher at around 500-600 feet. Recovery was easy through the 18 inch chute, and on all 3 flights it landed within around 200 feet of the launch site.
Finishing:
The body comes with a wrap already applied and there are no decals. There is nothing to do cosmetically except tape your name to a fin so you have a chance of retrieving a rocket if it happens to land in a neighbors yard without you knowing.
Construction Rating: 5 out of 5
Flight:
I recommend a C6-5 motor if you have all four body tubes connected so you will gain some reasonable altitude, otherwise it does not go very high. Be careful when launching less tubes with a C motor or you may lose track of the rocket.
Recovery:
The rocket went straight up, and then paused horizontally for a second, then ejection took place. It drifted slowly back to Earth via the 18 inch chute. No damage was sustained.
Flight Rating: 5 out of 5
Summary:
The Screw Machine is an excellent rocket for a beginner who wants to get a launch pad, controller, and a few thrills.
Overall Rating: 5 out of 5