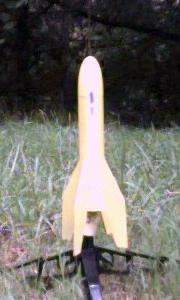 Brief:
A skill level 1 rocket from Estes. Small version of the Big Bertha.
Construction:
BT-60 body tube-7 1/2"
BT-60 elliptical nose cone-2 1/2"
Engine mount tube
Centering ring card
Retaining ring for motor tube
Engine block and hook
decal sheet
12" plastic parachute
shock cord
Pros:
Instructions are easy to follow and well illustrated.
Rocket went together quick with no problems. We used a few drops of super glue to get the fins on where we wanted them. Then we epoxied the fillets, we only did this because my kids always like over powering their rockets. However everything can be put together with white glue with no problem.
Cons:
Shock cord was to short and was replaced with a 1/4"x15" elastic cord mounted to the top centering ring instead of glued with paper to side of rocket.
Finishing:
Nothing special here, 1 coat of primer. Than we painted it yellow.
However, the decals don't show very well, they are a one piece decal on clear backing with white lettering and white/blue rectangles. Decals would show up much better on a dark color.
Construction Rating: 3 out of 5
Flight:
We used some shredded paper for recovery wadding. We used a B6-4 for it's first flight. It flew nice and straight with recovery just past apogee. So far we have only flown this once. A lot of our rockets only get one flight because the kids have so many .
Recovery:
We replaced the supplied shock cord with a 1/4"x15" piece of elastic and connected it to the top centering ring. We also replaced parachute with a 12" homemade nylon parachute.
Everything worked and deployed nicely.
Flight Rating: 3 out of 5
Summary:
A nice level 1 kit. With help, my daughter had it together in just one day and she has only built 2 other rockets.
Overall Rating: 3 out of 5