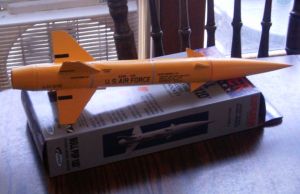 Brief:
This is a sport scale version of the Air Force's Bullpup Missile. A skill level 2 rocket but not that hard. It has been around for quite a bit now.
Construction:
The kit comes in either a box or a bag (nowadays it comes in a bag) and mine had all of the parts. You get:
Nose Cone
Body Tube
Sheet of balsa
Tail Cone
Clay Nose Weight
Centering Rings
Engine mount (18mm)
Decals
Launch Lug
Engine Stopper
Shock Cord
12" Parachute
The Bullpup has a set of 4 large fins and 4 canard fins at the top. Total of 8. I found the build to be neither too hard nor too easy and had it put together in about 2 hours. You need glue, scissors and knife. You start by assembling the engine mount and slide it into the main body tube. Then the tail cone is glued into place. Next you attach the fins and be sure they are lined up or your rocket could go unstable. That is followed by attaching the recovery system, which consists of the classic (but cheap) folded paper mount with the parachute tied to the nose cone. Coming down the home stretch, you attach the launch lug and apply fillets to launch lug and all fins for strength. Finally, cram all of the clay weight into the nose cone. The rocket needs the weight to fly stable, as I found that out the hard way. Assembly is now complete. .
Finishing:
Originally, my Bullpup was painted stock white with the peel 'n' stick decals supplied. But after one of its early flights, I decided to refurbish it with yellow paint and waterslide decals, so it looks much better now than it did at first. I also clear coated it to protect the waterslide decals.
Construction Rating: 4 out of 5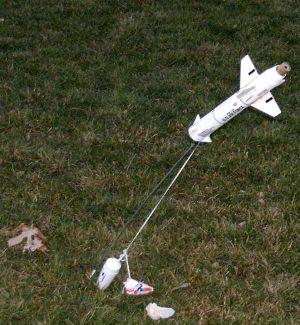 Flight:
My Bullpup has had 5 flights. Here's how each flight went:
Flight one: Shock cord snapped. Lost nose cone and parachute. Called Estes and got new parts.
Flight two: As I said before I learned that you MUST put nose weight in the rocket. It got 8' off the launch pad and spiraled all over and crashed before the ejection charge fires. No damage.
Flight 3 is probably the weirdest flight ever! It caught the seam of my launch rod and it flew 50' into the air with the pad and lawn darted. Then when the ejection charge fired and the body tube got hooked with the rod.
Flight four I almost lost it. C6-3 has too short of a delay and it was lost for 3 weeks. Recovered it after a major thunderstorm!
After that flight, I stripped it completely. Everything from canard fins to motor mount. I re-attached the fins, got new nose cone and decals, new motor mount and completely repaired it. I then repainted it yellow. And when it was done, it looked beautiful!
Flight 5 I had my fingers crossed. Flew on a B6-4. Yes! I ended the bad luck streak! Beautiful flight. I love this rocket now!
Recovery:
Recovery is just fine on a 12" parachute. I lost it on flights 1 and 4.
Flight Rating: 4 out of 5
Summary:
This is a great rocket now. Good for a first scale rocket.
Overall Rating: 4 out of 5