Brief:
This is an Estes E2X model rocket that is currently in production and available at retail stores.
Construction:
This one is the red version with the gold plate fin can, nose cone and decals. This appears to be a revision of the original kit previously reviewed on EMRR as it came with a 2 piece fin can, and with the launch lug already attached to the body tube and shock cord.
Kit comes with:
1 Gold Series Body Tube Assembly (#60371)
1 Gold Series Nose Cone PNC-56A
1 Assembled standard Estes plastic chute
1 Gold Series Two-Piece Fin Unit Set & Lock Ring (#60341)
1 "Rocket Label" Gold Series (#60342)
Detailed and illustrated instruction manual
After laying all the parts out and test fitting them as the instructions teach, I found that the nose cone was a little too loose. One piece of masking tape about 1 inch long gave it a snug fit that I feel good about.
Next came the fin can. While the package header card just says "glue" as being needed for construction, the instructions inside the package state "plastic cement". This is the Testors type that you can get in a tube in the hobby section of any store. It works well for plastic models, however, I decided to use LocTite QuickTite, which is basically super glue (CA or cyanoacrylate) in an inkwell type reservoir with a small brush to apply it.
I made a modification at the very start to make sure I can keep flying this model many times. Using a very sharp new X-Acto brand knife, I made a very tiny V shaped slot at the top of one of the fin can halves, took a 1/8" x 1" piece of Kevlar® cord and tied a double knot in one end bonded with a drop of CA, bonded the cord right at the knot to the fin can into the tiny V slot and then CA bonded the fin can halves together. So now I have a backup fireproof cord in it as a future replacement for the 9" elastic shock cord that came in the kit.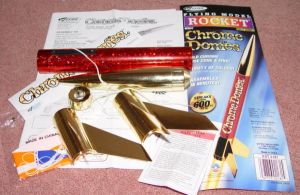 Next, using the CA brush I coated the top of the fin can very quickly (in about 5 seconds) and dropped the body tube into place making sure that my Kevlar® cord and stock shock cord were coming out of the other end of the body tube so they would not get glue on them. Make sure you get the tube on the fin can unit quick if using this type of glue because it sets in seconds.
Then I put the Gold type Chrome Domes decal on the airframe/body tube. It looks nice.
Last, I opened the pre-assembled Estes chute and tied it along with the shock cord to the nose cone. I did have to use an X-Acto knife to clear the plastic flash in the nose cone mount.
There is 1 possible 'gotcha' when building this rocket: Do not put the lock ring on the rocket until your model has been able set for a few hours or overnight, particularly if you are using the plastic cement called for in the instructions. A piece of tape should be used to hold it together until dry. It was not an issue since I used CA with mine but if you were to have extra plastic glue in the fin can, it could glue on the lock ring making it very hard to get off when you get ready to put an engine in it.
Finishing:
This is a very simple rocket to build and it looks very nice. Estes has produced a wonderful entry level rocket right here. All it took to finish was a hobby knife, one small piece of masking tape, and a very small amount of super glue and I had it built in about 10 minutes. The instructions are classic, simple Estes instructions and anyone can build this and end up with a nice looking rocket for an extremely reasonable price.
Construction Rating: 4 out of 5
Put it up this morning at the Challenger 498 Club Event in Katy Texas. Rode a C6-5 perfectly nice. Very stable high flight. Recovered about 200 feet from the launch pad, nice hang time, seemed like it was in the air forever.
Flight Rating: 5 out of 5
Summary:
One thing I took note of with this kit is that the launch lug is already glued onto the body tube with the shock cord mounted into it. That's quite nice but I think the 12" shock cord should be twice as long.
Great kit! Very simple, looks nice, low priced. Estes is making an overall nice kit here.
Overall Rating: 4 out of 5