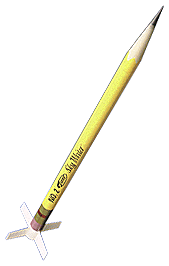 Brief:
New E2X series rocket from Estes that looks like a standard yellow wooden No.2 pencil. It flies on A-C motors and uses a 12 inch parachute for recovery.
Construction:
The kit came in a plastic bag with a header card. I was impressed with the packing of this kit. The main body tube with the eraser decal and nose cone came in their own individual wrappers.
The kit came with the motor mount tube, hook, and coupler, plastic fin unit, lower and upper body tubes, tube coupler, launch lug, shock cord, 12 inch assembled plastic parachute, pre-colored nose cone, and a single name decal.
Being an E2X kit, this rocket is in my own words "a piece of cake" to build. The instructions were definitely well written and had illustrations for every step. The shock cord was included also.
Construction starts with the motor mount. I then inserted the completed mount into the fin unit and then glued on the coupler. This assembly gets glued into the lower tube with the eraser decal. Be careful not to get any glue on it.
The launch lug goes on next. After that, I joined the two body tubes together. I then assembled the shock cord mount and glued it into place.
PROS: Super fast construction.
CONS: None
Finishing:
There is really no finishing due to the pre-colored parts. The nose cone is very impressive with its three color finish although the yellow on the bottom of it didn't match the yellow body tubes that well but it didn't matter to me.
I applied the name decal. I then cut out a spill hole on the parachute and tied it into place.
PROS: No painting required (Gotta love that).
CONS: None
Construction Rating: 5 out of 5
Flight:
The recommended motors for this rocket are the A8-3, B4-4, B6-4, C6-5. This rocket does require recovery wadding. I recommend at least four sheets. The hook holds the motor in place during flight.
For the first flight, I used a B6-4. The rocket boosted straight up with absolutely no windcocking at all to about 500 feet. Also, the yellow on this rocket can be very easily seen. I never lost sight of the rocket during flight.
The second flight was on another B6-4. This motor is perfect for this rocket. A repeat of the first flight.
PROS: Flies great, very easy to see in flight.
CONS: None
Recovery:
With the small spill hole that I cut in the 'chute the rocket came down very nice. On the second flight, I noticed an Estes type dent in the top of the body tube so I guess that the shock cord is just a tad too short.
PROS: Comes down nice on provided chute with a small spill-hole.
CONS: Shock cord just a tad too short.
Flight Rating: 4 out of 5
Summary:
I like this rocket. Priced at about $6.29, it's a real deal. Also because it looks like a pencil, it will impress youngsters and school teachers everywhere. Also, I feel that Estes should offer it in their educator bulk packs.
Main PROS: Fast construction, good quality components, finished appearance, excellent flight characteristics.
Main CONS: Shock cord too short. That's why I must deduct 1/2 point.
Overall Rating: 4 out of 5