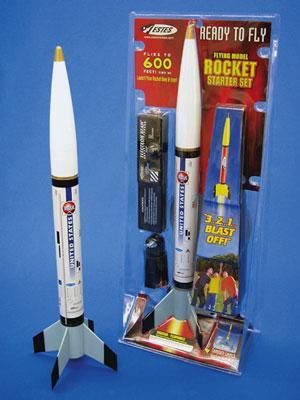 Construction:
This is a pre-assembled rocket starter kit. Just tie the 'chute to the shock cord, add wadding, drop in your engine, screw the plastic on the back, add igniter, put on pad, put batteries in the launch controller, hook up clips, and PUSH BUTTON!
I bought this kit at Wal-Mart because my wife wanted to get into the sport. Not knowing much about it except for watching me, I thought this would be a good way to get her started. She is good in the kitchen, but not at the workbench! I still had to put it on the pad for her. The rocket looked nice, but the body tube is flimsy.
Finishing:
None was required. The rocket looked nice overall, but the decal was faded in spots and the paint on the nose was a little splotchy at the top where the gold point is.
Construction Rating: 4 out of 5
Flight:
This thing needs help! The motor is held in with the twist on plastic cap at the tail. I would recommend the B4-4 motor. I used three of those then a C6-5 which was a BIG mistake! It took four sheets of wadding placed in one at a time and staggered in the tube to keep from burning the Estes 'chute.
There was some wind on the first flight and it kicked the tail section out from under it on the first lift-off at about 75 feet causing it to almost be powered into the ground. When there was no wind it flew fine, but still cocked a little bit.
When I put in the C6-5, there was about a 5mph gust just as it got to about 100 feet causing it to fly crooked and way off on an angle. The engine seemed too powerful though as, even once it cleared the pad, it looked unstable. I did not have a chance to re-test the stability of the rocket in a swing test for weight because a tree ate it on that flight.
Recovery:
Use at least four sheets of recovery wadding or your 'chute will get burned. The shock cord put a little dent in the top of the tube, but not enough to affect anything as the nose cone keeps it right. I would recommend a spill hole in the 'chute as it really hangs in the air if you have a breeze and this baby will drift!
Flight Rating: 3 out of 5
Summary:
PROs: If you know nothing about this sport, this is a good starter kit and is an easy rocket to prep. CONs: Don't fly it in any breeze and stick to the B-size motors as this rocket is flimsy and possibly unstable.
Overall Rating: 3 out of 5