Estes, the long time leader, has created a flying buddy for the Mosquito. . . Quark. Quark is mini-engine, featherweight, tumble recovery rocket that's simple and fun to fly.
The kit comes with 5 parts, instructions and decals. You will need a hobby knife, sandpaper and glue to assemble this kit. The instructions are straight forward and easy to follow.
Construction is simple and took less than one hour to build. The four fins are cut from two pieces of balsa strips. Once all cut, they need held together and sanded to make them all the same size. Then the leading and trailing edges will need rounding. Although there are many techniques for this, I simply lay a sheet of sandpaper on my work bench and stroke each edge the same number of strokes on each side. I find this nearly always brings the edges to a nice centered and rounded point.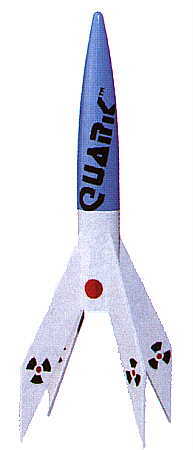 Once the fins are ready, construction is a snap, especially with the fast-drying action of CA. Four fins, a hollow, plastic nose cone and a launch lug . . . done. Made fin fillets with 5-minute epoxy, sealed the fins with a thin layer of epoxy, and this mini was ready for light sanding and painting.
I finished it with Plasti-Kote primer and some left over denim-colored enamel paint. There are seven decals, excluding the Estes logo, that are self adhesive. Be cautious of placement of the Quark name label. If too high on the body, the label will have creases in it due to the curvature of the nose cone.
When finished, my Quark stood a towering 5. 7", as opposed to the 5. 2" indicated in the catalog.
The Quark is a good and fast flyer with a tumble recovery. Be sure to designate a spotter (unlike myself), because it's small and very hard to track. My first flight was on an 1/2A3 and it was out of sight . . . and stayed that way.
I have since added a comparison on Mini Tumble-Recovery Rockets - See Here.