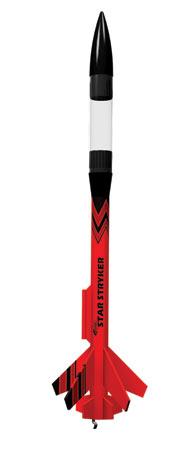 Brief:
A slick little payload rocket with a unique fin arrangement.
Construction:
I've heard rockets described as "3FNC" or "4FNC", meaning "3 or 4 fins and a nose cone", but the Star Stryker has to be described as a "10FTCTNC"..."Ten fins, transition, clear tube, and a nosecone." The kit consists of two sections of 19mm tube, a 19-21mm balsa transition, a nice balsa nose cone a section of 21mm clear tubing, a coupler that also serves as a thrust ring, a motor retainer hook, a sheet of laser-cut balsa fins, a rubber band shock cord, a printed shock-cord retainer, a launch lug, and a pre-assembled 12" parachute. It came in a corrugated cardboard box; all the parts were there and undamaged.
The Star Stryker has the typical Estes instructions...clear and well-illustrated. Laser-cut balsa fins were made of some hard, fine-grain balsa, as were the transition and nose cone.
About the only issue I had on this one was the five-fin alignment...the marking guide wrap was too big for the body diameter. I had to use the secondary alignment guide (a bottom view of the rocket) as a substitute. I deviated somewhat from the instructions by lining up the launch lug standoff with the motor retainer hook, rather than putting it on its own separate line. I also substituted quarter-inch sewing elastic for the rubber band shock cord...If I could have added a piece of Kevlar® I would have, but since she's a minimum-diameter rocket I couldn't figure out just how.
Assembly was with Aleene's Fast Grab Tacky Glue throughout.
Finishing:
I tried a new balsa surfacing tactic on the Star Stryker. I started with a coat of white correction fluid, then rubbed on a coat of tube-type plastic cement after a light sanding. Quick and slick in only two steps.
I copied the box color scheme (red airframe with black nosecone and transition) with inexpensive rattlecan paint, and applied the waterslide decals as depicted. The decals are pretty thin...be careful. It looks like a little jewel.
Construction Rating: 4 out of 5
Flight:
I flew the Star Stryker twice on A8-3's and once on a B6-4...was somewhat afraid to use a C6-5, it's so small. Needed three squares of Estes tissue for wadding.
Flew straight as an arrow...has quite a bit of fin area. Nice ejection and recovery.
Recovery:
It might be three inches longer...that would give more recovery equipment volume. Aside from that, recovery was smooth and reliable, and no damage at all.
Flight Rating: 4 out of 5
Summary:
I am very pleased with the Star Stryker...it's a little jewel of a payloader and draws eyes on the pad or on display. I think a 21mm upscale is a very nice idea...
PROs: Unique fin arrangement, simple build despite that, clear payload section.
CONs: Likely to leave the country on a "C", that cussed wraparound fin guide that was too big.
Overall Rating: 4 out of 5