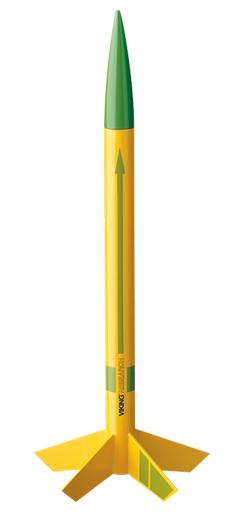 Brief:
Good kit, flies good, 48 building options. Good price 5.99
Construction:
Parts list:
1 Body Tube
Motor Mount
5 Fins
Nose Cone
A Neon Streamer
Shock Cord
The instructions were easy to follow with lots of pictures and 5 templates. Every thing fit. All you need is glue, scissors, work board and some knowledge about rockets.
Finishing:
Always prime before painting - it makes it look good.
Construction Rating: 4 out of 5
Flight:
I used an A8-3. It went out of sight and won't use anything higher, or you'll lose it for sure. The motor self ejects it self.
Recovery:
The recovery is a little too fast. Maybe I'll try a little chute.
Flight Rating: 3 out of 5
Summary:
Everything is good in this kit. I highly recommend it.
Overall Rating: 5 out of 5