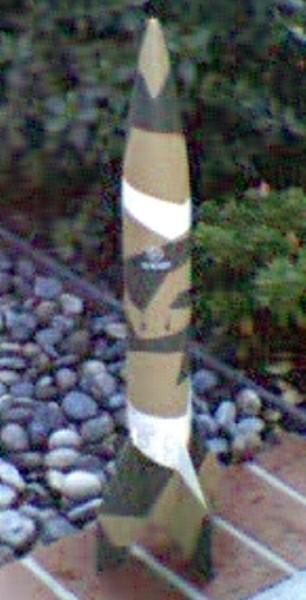 Construction:
This was my second time building this kit in my lifetime. I built the same model when I was 13 when the Estes kit was made with a balsa nose cone and boat tail. After my BAR renaissance, I built this kit again two years ago at age 47. Recalling my first version, I painted it in the traditional black and white Peenemuende roll pattern and flew it on a C motor. The current Estes version has a 24 MM motor mount with plastic nose cone and boat tail. As I recall, most of the internal parts where similar between the two kits; most being made of cardboard. Not being satisfied with the status quo of a stock Estes kit, I made the following modifications:
All centering rings replaced with ply.
BT-80 body tube replaced with LOC 2.56" paper tube after crunch.
Eventually replaced Estes NC with LOC.
Balsa fin stock replaced with 1/8" PVC plastic.
Launch logs upgraded heavier plastic tubing.
Motor hook modified to accept 24 MM Aerotech RMS hardware. This is done by filing down the front end angle so the forward closure of the RMS can clear hook inside motor mount.
Nose cone weighted with plumber's putty for correct CG placement to compensate for E and F RMS loads.
Recovery system upgraded to 24" nylon 'chute, 6' length of heavy duty boot lace anchored with 8" Kevlar to eye bolt on upper centering ring. Use 8" Nomex heat shield to protect 'chute.
Used 5 minute epoxy throughout.
Construction Rating: 3 out of 5
Finishing:
Used ragged camo motif found at the V2/A4 Resource site. Used all Estes decals provided.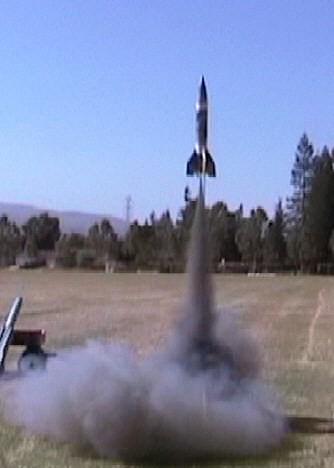 Flight/Recovery
This is one of my most versatile fliers. I fly this rocket on Aerotech RMS E-11s, E-18s, E-28s, F12s, F24s, and F39s. The photo in this article is a flight on a very calm day with an F12 I use an 8" Nomex 'chute protector.
In general, this is a great flier. The Nazis did a great job of designing this rocket. Need to pay attention to CP/CG relationship when using larger motors.
As mentioned, I upgraded all recovery components. Estes' are just too wimpy. I have had several recover mishaps due to 'chute tangles or not deploying at all. This is attributed to the tight fit of a 24" nylon 'chute in a small compartment. Not much room is left in the body tube between the centering ring and the NC shoulder. I have compensated for this by adding a little more FFFG powder to the ejection charge. I also added another inch to the body tube on the last repair work done.
Flight Rating: 4 out of 5
Overall:
Everything considered, it's a good place to start, but highly recommend upgrading the recovery components at least. To have some real fun, consider the upgrades that I performed. I have flown this rocket over 30 times and repaired it many times as well. The ragged camo finish is hand painted with hobby shop grade oil-based paint. Even with major repair such as broken fins and punctured nose cone, hand painting the camo pattern over repair work just blends right in.
Overall Rating: 3 out of 5
Summary
Good, this is basically average . . . it get's by (Stock kit). The Nazi rocket scientists get a "5" for an awesome rocket design.
I liked the decals that Estes provides with this kit. Overall, model looks very authentic and is a blast to fly.