Brief:
This is the original Estes Mercury Redstone Kit No. K-41, a scale replica of the first manned ballistic space vehicle. The header tag lists a price of $3.50. It is a single stage rocket with a two parachute recovery system, one for the body and one for the capsule.
I purchased this kit on eBay for $45 late in 2007. It was an open bag and was missing the screw eye, one lead weight, and one of the two parachutes. The decals had some residue adhered to the surface and were unusable. I purchased the lead weight from Semroc, replaced the chute with a period chute I found on eBay, and I purchased replacement decals from Excelsior Rocketry.
This kit took a good deal of time to complete. I started it back in mid to late 2008 and worked on an off on it up until it's completion in February 2009.
Construction:
The parts list:
1 Body Tube BT-60KF
1 Body Tube BT-20J
1 Capsule Cone BNC-60AK
1 Escape Motor nose piece BNP-41
1 Sheet Balsa fin stock BFS-40
1 1/12" Dowel Stock WD-2B
1 Tower Dowel Section WD-41
1 Set of Rings and Fin Parts TA-41
1 Set of Instructions KP-41
1 Pattern and Shroud Sheet SP-41
1 Decal Sheet KD-41
1 Sheet of 12 Tape Strips TD-2L
1 Engine Hook EH-2
1 Shock Cord SC-1
1 Shroud Line Stock SLT-180
1 Launch Lug LL-2B
1 18" Parachute PK-18A
1 12" Parachute PK-12A
1 Screw Eye SE-1
2 Nose Cone Weights NCW-1
This is what I would consider an old school builders kit. There is no skill level listed on the header tag, however, Estes catalogs of the 70's peg it at skill level 5. It is without doubt the hardest kit I have put together to date. It easily surpasses the Estes Saturn V kit 2001 and the Semroc Saturn 1B in difficulty.
The instructions were good, however, they left more than enough to the imagination when it came to the fin creation, which was one of the two most difficult parts of this build.
The tower construction was difficult because the dowel material had to be cut from a sheet and rounded. The rods were very small and hard to work with. The fins ended up being the biggest challenge. You need to cut out each of the components that make up the fins by hand and then sand them down to their required profiles. Each fin contained six different pieces and only one of those (a cardboard spacer) was pre-formed. In total the four fins contained 24 different component pieces.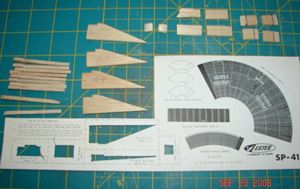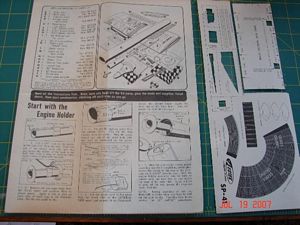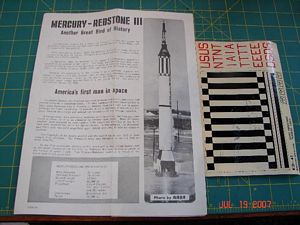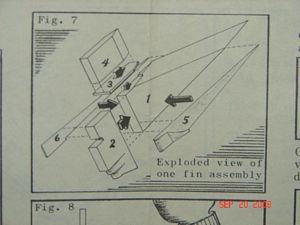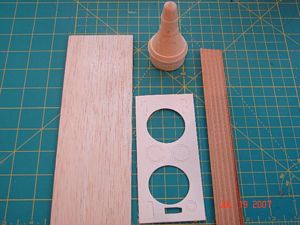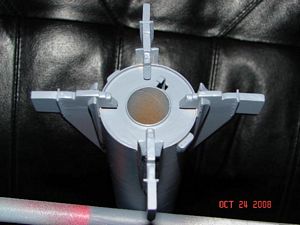 Finishing:
Finishing of this model wasn't overly difficult, but since the painting was done in February in New England, it was a bit of an adventure. I used Frog tape for the first time masking the fins for the black paint and had bad results. I switched back to blue Scotch 3M masking tape and had much better results. I had to strip down and repaint two sections due to bleed through with the Frog tape.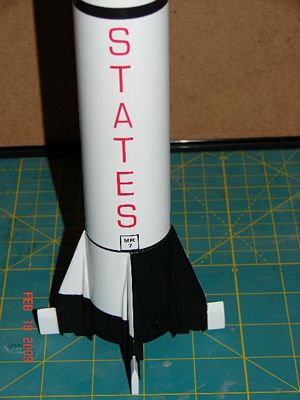 Construction Rating: 5 out of 5
Flight:
I finally got the chance to launch the Mercury Redstone in August of 2009. It flew first on a B6-4 and then on a C6-5.
The B6-4 flight was excellent. It reached a respectable height of a few hundred feet. The main body comes down on one 18" parachute and the capsule comes down on a 12" parachute. As suggested in the directions, I rigged a capsule sling to bring the capsule down horizontal to the ground in order to protect the tower. However, instead of gluing the sling to the capsule as suggested in the directions, I rigged it so that it can be taken off for display purposes. Both the capsule and main body came down without any damage.
The C6-5 flight took the model almost out of sight, and drift carried it and the capsule a good distance from the pad. The main body received a small scuff on it's side from the landing, but the capsule came down in great shape. The Mercury Redstone did very well and is now in semi-retirement, sitting on the bookshelf in my office.
Recovery:
This is a very lightweight model, 2-1/8oz and it flies great, far better than the newer Estes Mercury Redstone 2167 version, which is listed at 3.0oz, but painted I think it's heavier that that. I haven't gotten a good flight out of that version yet. Plus the plastic parts on that version have a nasty habit of falling off.
Flight Rating: 5 out of 5
Summary:
I first built this same kit back in the early 70's and it was a real treat to be able to do it again as a BAR.
The main pro regarding this rocket is that it's a true builders kit. You have to roll up your sleeves and build this kit. You don't simply put it together. It was a real challenge to build which made the reward of seeing the finished product that much greater.
The only con I see regarding this rocket is that it's no longer available. There aren't enough true builders kits on the market any longer and that's a shame.
Overall Rating: 5 out of 5