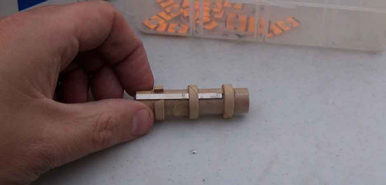 Brief:
This is an out of production mini motor adapter for using 13mm motors in 18mm mounts.
Construction:
The kit consists of:
a motor tube
(3) centering rings
a mini motor hook
Construction is simple and fast.
The first centering ring is glued in place at the foward end and a slit for the hook is made just below it. The middle ring needs to have a small piece cut out (not all the way through) to accomodate the hook and is glued in place. The last ring has an 1/8" segment completely removed and it is glued in place flush with the end. All the rings are then filleted.
After the glue is dry, a notch is cut in the forward end on the opposite side of the engine hook. This is to accomodate the engine hook on the 18mm mount. This concludes the adapter build.
Construction Rating: 4 out of 5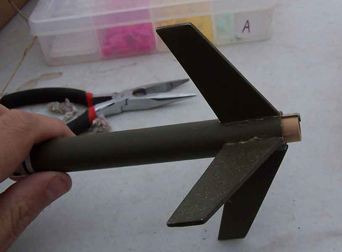 Flight:
I tested out the motor adapter on a Custom Rockets A.T.W. It is a light rocket which always performed well with 1/2A6-2s. I inserted a 1/4A3-3 into the adapter and then slipped the adapter into the tail of the rocket. It was a bit loose so I applied some tape to improve the friction fit.
The rocket launched, underpowered, arced over and hit the ground. Then ejection occured. Thankfully, there was no damage to the rocket. This ill fated flight can be seen here.
Even though the first flight was not a good one, the adapter seemed to have worked as advertised and I wanted to give it a second try. This time I loaded a 1/2A3-2. The flight was much better but problems began at apogee. Instead of ejecting the streamer, the charge ejected the motor mount. The rocket came down ballistically, glanced off the GSE truck and hit the ground. The only damage was some minor crumpling of the BT. The adapter was never found. A video of the second ill fated flight can be seen here.
Recovery:
My experience with this adapter is not the greatest but I think this is partially because I was using in a friction fit rocket. If the adapter had been mounted as designed in a motor tube with an engine hook, it should have performed fine, assuming a proper motor selection to begin with.
Flight Rating: 4 out of 5
Summary:
For adapting motors, it works. Be wary of friction fit applications, however.
Overall Rating: 3 out of 5