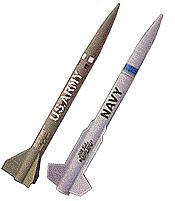 Brief:
These rockets are ready-to-fly and come with launch system and a B6-4 for each rocket. They are single stage with parachute recovery.
Construction:
The body tubes come with fins attached. The nose cone is already tied to the body tube with the usually too short shock cord. Parachute attachment, wadding, and motor installation are all these rockets require to fire.
Finishing:
Not necessary. Rockets are pre-finished.
Construction Rating: 4 out of 5
Flight:
My first flight on these rockets was with the supplied B6-4 motors. These rockets fly straight and true every time (so far). On the first flight, the shock cord burned in half and the rocket tumbled and sustained no damage upon impact. The second flight with the other rocket, performed flawlessly.
Second flight on these rockets was with C6-7's. With an extended shock cord these rockets again performed flawlessly.
With about 4 flights each there is no damage and I continue to enjoy them.
Recovery:
The spotter smoke was great. These rockets are so lightweight, a streamer could be a better choice for recovery.
Flight Rating: 5 out of 5
Summary:
PRO: Great fliers.
CON: Too short shock cord.
Overall Rating: 5 out of 5