(
Contributed
- by Bob Hvarven)
Note: This is a slightly shortened, edited version of Bob's article with fewer pictures. Visit Bob's site for all the pictures and to write him for the fin template and comments.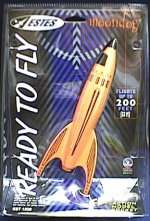 I recently purchased the Estes Moon Dog pre-fab rocket, while at a recent "After Christmas" feeding frenzy on "Sale Items" in Enterprise Alabama. It was the only one of the new pre-fab rockets that hit the shelves this Christmas left. After reading several comments on this particular rocket and the pre-fab approach to rocketry (Pro/Con), I thought a "Construction" article was well overdue. The following is my opinion only, and may not be the same as the Manufacturer or Design Engineers that created this rocket.
The Package: The packaging is very nice looking, and would "Catch" the eye of any passerby. The "READY TO FLY" in big, bold ;letters ensures the prospective buyer; that no matter how 'inept" they my be, even they could fly this rocket. The "90's" spoiled-rotten child, can see they would again have to invest nothing in it's construction, thus allowing more time for creative activities like - Video Games, or Music Videos. Oh, Estes - You've done it again!!!
Components: The "Kit" consists of (1) one each "Vacuum Formed" plastic outer wrapper. (1) one each "Cardboard Insert" with impressive "READY TO FLY" printed on it (Oh - also a little "moondog" lettering is there in the upper right corner. The back outlines the rockets impressive 200 Ft.. flight profile, and shows recommended engines !! The part that still makes it a "Kit" - the parachute pack. Oops, almost forgot the 50's style, all plastic, super fantastic, orange rocket. Also, the back panel has Estes address to send your "Thank You" letter to.
Da Rocket: Let's take a look at the "Zoom" part.. The rocket itself has (3) three plastic parts, and (1) one elastic part. The "Nose Cone", the "Main Body", the "Motor Retention Ring", and the "Elastic Shock Cord". (Shock Cord is already tied in place !!) we have been saved the embarrassment of messing this up. Thank you, thank you, Mr. Tunik!!.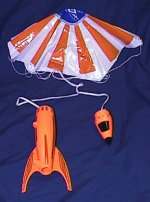 Recovery Device: The Parachute is also already assembled. The difficult task of making equal lengths of unruly string is gone. The nearly impossible task of placing those "Sticky" dots in the exact location is gone. The dangerous task of using a sharp object to pierce the plastic to tie the string in, is gone. Having to tie a knot is no longer a reason for "pretending to be sick" to avoid the stress of this horrendous requirement. The task of "having fun in accomplishing something" IS GONE !!!!! Glory, Allelujah, the FUN is GONE.
RTF Kit Assembly: Now the hard part !! Although this rocket is advertised as being "Ready to Fly", it requires some mighty complicated assembly. The instructions tell you to place the parachute string about 1/4th the way down the elastic cord from the nose cone. I'm already starting to sweat ! After several hours of meditation, a call to my Psychic Friends, and countless measuring attempts, I finally decided on this location for the "Tie Point". My God, I hope it's right !!! P L L L E E E A A A S S E E.... Tell me it's OK !!!!
Parts Fit: The Nose Cone fit so loose, that it resembled the head of one of those stupid-looking plastic dogs you see in the back window of a 1982 Low-Rider Cadillac. It just kinda' flopped around a little. I had to place a wrap of tape around it to get it to fit properly. The Motor Retention Ring fit properly - Surprise, Surprise, Surprise.....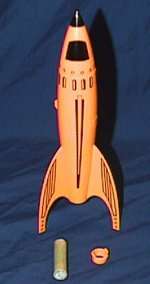 Motor Installation: There is no motor tube like in most other "Kit" rockets. The motor goes into an area that has raised plastic rails for the motor to slide into. The Motor Retention Ring worked like it should on mine, although I have read on rmr News Group that others could not even get the ring to go on. This fueled rumor of a "Micro" motor for these rockets. I think these rockets are for the standard A10-3T type motor listed on the packaging. A longer than standard motor lot, or poor Quality Control on the rocket could be the problem. Anyway, mine fit properly. (First positive comment - If you have noticed)
Flight Test Prep: The rocket was prepped with an A10-3T; one of the recommended motors on the back of the packing. The wadding used was the Cellulose insulation material. Here the "Mighty Moondog" waits on the gantry for the countdown to begin. Sorta' makes your heart pound, doesn't it??
Launch !!: 5 - 4 - 3 - 2- 1..... Liftoff !!!!
The rocket angled into the almost nonexistent wind and went approx. 150-175 ft. Ejection occurred at slightly after apogee, and the parachute opened properly, bringing it down about 2 ft. from the launch pad. No damage was done and the rocket was returned safely. The flight was straight after the initial 40-50 ft. and it didn't fishtail or wobble or spin worth mentioning. If my living room ceiling had been high enough, the entire flight could have been flown there with room to spare. This would be a true "small field" rocket. Might be ok for kids if the "Little" motors had a "Little" price. It's hard to spend that much for so "Little"....
Impressions: I'll be upfront with you; I don't like ARF rockets. I think it takes more away from the hobby than it gives. It teaches nothing, and requires no investment of time or energy. I was brought back into the rocketry hobby after years away from it due to the fact that I invested time and sweat into the rockets I made. We used to have building sessions at each others house on Saturdays that would last all day. We exchanged ideas, painted our rockets, and made replacement parts when we screwed them up. We had something invested in our rockets; part of use was in each and every one. I can still see the faces of my buddies after a successful launch. If we had died immediately after a successful launch, it would have taken the undertaker a week just to get the SMILE of our faces. That stuck with me all of my adult life. Then after raising a family, trying to make a living, and things slowed down a little; the seed that was planted all those many years ago "Sprouted" again!! It sprouted because something lasting had been planted in me. I'm afraid that ARF rockets won't do that for this generation of young people. Please write or E-Mail Estes and ask them to turn around their thinking, and do something better with their resources than make "Plastic Toy Rockets". Where are all the other Plastic Toys you have bought your kids ??? Do they even remember them ??? I doubt they do.
Rating: Packaging was good, Instructions adequate, Rocket was poor due to the very loose Nose Cone problem, Flight characteristics are acceptable (3) flights, Recovery device adequate.
Overall Rating / 1-5: Trying to be fair - 2 points