| | |
| --- | --- |
| Construction Rating: | |
| Flight Rating: | |
| Overall Rating: | |
Contributed by Nick Esselman
I decided to get a couple of the new (2001) Estes' kits and thought the Night Wing looked cool as it reminded me a lot of the SR-71. Then I decided to build a series of rocket "ships" that could be part of a futuristic space fleet. So along with the Night Wing, I planned on building the Rogue Interdictor and an old Custom Stealth Interceptor that I've had hanging around for about 4 years.
See my 18mm Futuristic Rocket Comparison Page
The Night Wing comes with a BT-50 body tube, an 18mm motor mount with motor retention, (4) die-cut balsa sheets for all of the wings and RamJets, a die-cut paper (index card thickness) for the body skins, a launch lug, 1/8" elastic shock cord, an 18" plastic parachute, a decal sheet and last but not least the nose cone. The nose cone is from the old SR-71 kit.
CONSTRUCTION: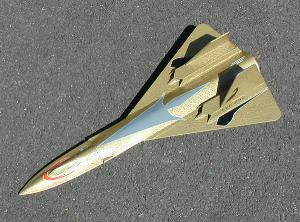 The instructions include 6 pages of illustrated (with a few photos) steps that will guide the builder successfully. The instructions include flying instructions and two paint schemes. I've noticed Estes is providing two paint schemes on their kit cards and think it is a nice idea. The instructions back up the kit card by describing the two schemes and showing how the various decals support each theme.
The kit card is used for cutting out wing supports to assist in building the rocket. In addition, two other alignment templates are cut out. These templates are used to align the various angles associated with building the ramjets, bottom cover and attaching the fins onto the rocket.

In step 3, the die-cut balsa pieces are assembled. I found it beneficial to assemble the ramjets and bottom cover and then apply a fillet on the inside joints. Then after drying, I sanded them so that the tabs from assembly did not stick up. I think Estes should have shown this action as part of this step.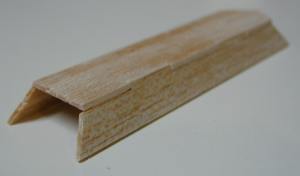 Also don't be fooled here. There are enough balsa parts to assemble two complete bottom covers. You only need one on the rocket and yes I did spend several minutes looking at the picture and then the instructions and then the picture again. I assembled both at this time, but didn't need one.
I found using the alignment templates to be a bit difficult. I'm not sure there is another way though, so take your time.
The main wings are three pieces and are assembled by laying them on a piece of wax paper and aligning with a ruler edge. This technique works well. It works better with a second piece of wax paper and placing a book on top to ensure they are perfectly flat. At this point it would be wise to seal and sand the wings (as well as all the balsa parts) considering it can be very difficult to seal and smooth them out once the rocket is fully assembled.
The nose cone gets some weight added by taking the clay and rolling it into very skinny strips and sliding it into the nose cone. Then it is pressed into place with a pencil.
The body skins are glued on after the main wings are attached. These are rather challenging and depend on perfect main wing alignment. They are attached using carpenter's glue. I found that the glue made the paper "wet" and caused a slight deformation where the body skin attaches to the wings. You may want to investigate a different glue, maybe a spray glue, for gluing these in place. If you use carpenter's glue then be sure to use it sparingly (very thin) and spread it out with your finger as outlined in the instructions. Then once in place be sure to rub your finger over it repeated times until the entire joint is smooth and tacked down.
The last part of attaching the body skins is wrapping the upper section over and onto main fin edges. Take your time on this and only do one side at a time to ensure that the seam is clean. My seams needed some trimming with a hobby knife to look right.
Step 13 is difficult since you are gluing on the fins at specific angles. To get these angles you use the alignment guides that are cut out from the cover label back. Again, you might want to use a fast setting glue like Quick Grab to ensure they don't change as the glue dries. I didn't use Quick Grab, but rather set up a jig using books and pencils to hold the fin in place while drying. It worked.
For finishing, I used a very thick layer of Plasti-Kote primer, sanded and hit it again. Then I used Rustoleum "Hammered Look" Gold paint. One nice thing about this paint is that it hides a lot of finishing flaws (not that my rocket had finishing flaws [grin]). The decals are peel-n-stick decals and adhered nicely. They are thin enough to not draw attention but not so thin to tear easily. I was pleased with these decals.
Overall, for CONSTRUCTION I would rate this kit 4 points. I just think a couple extra steps about the bottom covers would have been nice. Also, the templates were difficult to use. Lastly there should have been some instruction on sanding the tabs from the ramjets and bottom cover. Overall the instructions are Estes quality and the materials were fine.
FLIGHT/RECOVERY:
Estes recommends a B4-4, B6-4 and the C6-5 motors for the Night Wing™ and I took that advice for the first two flights.
Preparation of the rocket suffers from the same issues that the SR-71 did...too small of a body tube. At least for me, I find it difficult to get wadding in there, then a full 18" parachute and the shock cord. The biggest problem is the folding of the parachute. I have found that one fold works best giving you a 4½" long rolled chute. Then I find that this length tends to catch on the 3-fold paper mount.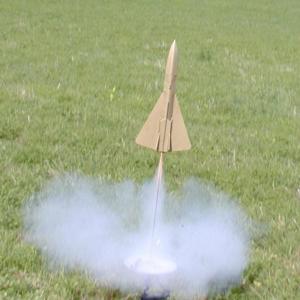 My first flight (pictured, looking at the bottom) was on a B6-4 with fairly calm wings. It gave a nice lift-off, somewhat slow and a low altitude. It was interesting because the large winged bird seemed to stall at apogee, fall for just a moment belly down and then eject.
My second flight was on a C6-5. Again a slow lift off but much better and more enjoyable altitude. It seemed to arc over and with the nose cone slightly down, ejected. The parachute didn't unfurl, but the big wings seemed to slow this rocket down on the descent and it landed with no damage.
The third flight was on an Apogee C10-4 on a perfectly calm day. All I can say is that this is an excellent rocket/motor combination. The C10 gets it off the pad and with good altitude. Nice white tracking smoke in these motors and ejection was at apogee. Just ensure you use more wadding than I did with an apogee motor. Their ejections are more authoritative than the Estes motors and it burnt a hole in my parachute and caused it to stick together. No damage though.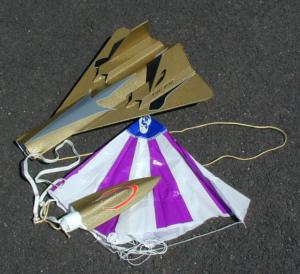 Lastly, I must make my official complaint about the shock cord length (again). This rocket is especially weak at the nose cone junction since it is only the card stock body skins. Use the Estes shock cord and you will most definitely have a lot of damage on this joint. This is well known about the SR-71 and will translate to the Night Wing™. I used the 3-fold paper method that is supplied, but I used a 24" piece of Kevlar®, then the supplied piece of elastic shock cord.
My rocket weighed in at 4½ ounces (Estes indicates 3.2 ounces), and the 1 time my chute actually opened proved that the 18" chute is a nice size for descent rate.
For FLIGHT/RECOVERY, I would rate this kit 4 points. My biggest complaint about flight is the the recovery system. The supplied shock cord is way too short as we all know, and the 3-fold method gets in the way of the parachute that has to be folded to make sure a thin and long package. The plastic parachute is fine, but nylon (thin) would be better. The flights are nice as the large wings give this rocket some appeal and also varies the movement verses a straight-as-an-arrow rocket. Don't get me wrong, it is stable, but moves around a bit while going upward.
Overall, the Night Wing gives a nice challenge when building and also provides a nice looking model when finished. I could have really spent more time with detail work and really made it look nice. It is also a good rocket for those that wished they could still get an SR-71. B motors are barely adequate, however, C motors are respectable and fun. Save your money and buy a few Apogee C10's and even a D10 if you really want to go all out. I give the rocket an OVERALL rating of 4 points.
Flight Log
- Post a Comment -
What You Can Do