| | |
| --- | --- |
| Construction Rating: | |
| Flight Rating: | |
| Overall Rating: | |
Contributed by Tom Bell
- by Tom Bell
The Estes' Phoenix is a challenging scale model kit of a US air-to-air missile. It is gun to build and fly and an excellent introduction to mid-power rocketry.
INSTRUCTIONS:
The instructions were illustrated and easy to follow. No special tools were needed.

EASE OF BUILD:
This rocket is not easy to build, due to the large amount of lumber it carries. It has eight very large balsa fins, so it is not recommended for the first-time builder. Fortunately, the fins are all one-piece design, so you don't have to glue the fins together from many pieces as you do with some other Estes' kits.
All the parts were included in my kit. Estes has a toll-free number you can call if there are any missing parts, and they also have a limited warrantee.
Alignment is a bit of a challenge for the fins because you want to get the forward fins aligned exactly with the rear ones. Besides carefully using the body tube marking guide, make sure to align these "by eye" before the glue sets up.
Estes recommends a lot of sanding on the forward fins to give them a knife edge for that scale look. If you're building this for contest, go for it. Otherwise, I would advise against sanding too much wood off this bird, or you will have balsa splinters all over the place when it lands hard. . . which it will. Give the fins many coats of strong filleting.
QUALITY:
This is a good quality kit and is pretty sturdy, given the amount of wood hanging from it. I've had the rear fins pop off at times and one of the front fins has a hairline crack, but these are easily fixed. It is surprising that there hasn't been more damage, given the amount of balsa on this rocket.
This rocket looks sharp, even after several launches and some battering. The white color is not range-friendly and gets dirty fast.
The decals were something of a disappointment. Although they were complete and seemed accurate, they were soak-in-water type and were difficult to apply. Several other Phoenix builders noted this to me. You may want to look for a decal fixative solution that goes into the water soak to improve decal adhesion. Also recommended is several coats of clear spray after the decals are applied.
Even with the clear spray, my decals have started to chip and peel after many flights. I may repaint my Phoenix in a dull gray color and use only a few decals on it, to give it extra life.
FLYING:
This rocket flies surprisingly straight for the amount of wood hanging on it. The only disappointment is that it is a bit heavy for a D12-3. Do NOT fly this rocket with a D12-5. The extra two seconds of delay can be fatal to the airframe. You can either turn it into a lawn dart or may have late ejection, which can easily cause zippering.
Make sure you have installed the nose weight clay, or this rocket may be unstable.
Most popular engine for the Estes Phoenix is the Aerotech 24mm reload. You may have to file down the forward end of the engine clip to allow the forward end closure of the reload to fit. But this motor provides ample power to get the Phoenix up in the air.
Because of reliability problems with Copperhead igniters, I have begun using Estes North Coast igniters with the Aerotech 24 mm reload to good effect. They are less likely to short out than the Copperheads, although Estes did go cheap on the pyrogen on the igniter tips.
Recovery is usually excellent. You may want to consider replacing the stock 24" plastic chute with a nylon one, as they are more sturdy and reliable. Plastic chutes have a nasty tendency to stick or tangle, which makes for a hard landing.
RATING:
I give this rocket 4 points. It is an excellent scale model, although the decals may cause some cussing. It is a bit underpowered with a "D" motor, although you can upgrade to Aerotech's with it. It is also an excellent introduction to mid-power rocketry and composite motors.
Although this may seem heretical to the accomplished rocket builder, this is one kit that may have actually benefited from plastic fins instead of all the lumber it carries. This may have reduced the weight enough to improve performance on the "D" engine. If you are into plastic fin fabrication, you may want to consider this option.
Estes has a winner with this kit. . . if they were smart, they'd build a larger version under their North Coast label. For now, if you want a bigger Phoenix, you can get the THOY model with a 4" diameter tube, which will handle high-power motors.
---
(by Nick Hills)
Specifications: Length: 30" Diameter: 2. 6" Motor Mount: 24MM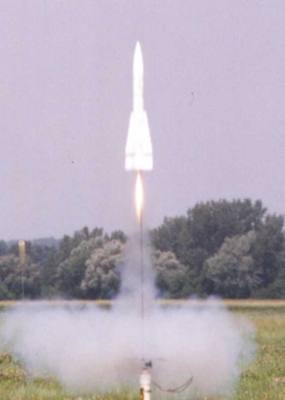 The instructions for the Phoenix are written very well. On one of the steps for the rocket, they tell you to put the motor mount in so the motor hook is even with the end of the body tube, make sure to do this! You WILL want to coat the end of the body tube were the motor mount is with epoxy so the tube does not get burnt from the motor! Also they give you diagrams for every step! The tools needed for construction are: sanding sealer, sandpaper, rule, pencil, X-Acto knife, scissors, glue, masking tape and epoxy.
All parts fit well! But putting the fins on does take time sense there are 8 of them!! Also you may want to build the rocket so you can fly Aerotech E and F motors in it. I just coated the centering rings with epoxy and put balsa strips on them too! And built the rest of the rocket with epoxy. Another thing is you will want to put good fillets of epoxy on all of the fin/body tube joints!
Sturdiness: The rocket would be a LOT better if they gave you thicker body tubes! The decals they give you are water sensitive. Which I like better then the self adhesive ones sense they are easier to work with. You will want to clear coat the rocket when you have all the decals on to protect the decals and finish! When done it looks GREAT!
For the first flight of my Phoenix I used a Aerotech E15-4 White Lightning. Rocket had a great boost and had a little bit of spin at motor burn out. And then ejection charge fired and rocket cam back without any damage! NOTE: Make sure to add the nose weight they give you or your rocket will not be stable!
I would give this rocket 4 points. It would get 5 points if they gave you thicker body tubes and a longer shock cord ( you will want to replace the one they give you). Other wise this is a great rocket!
Flight Log
- Post a Comment -
What You Can Do
eBay Offers: