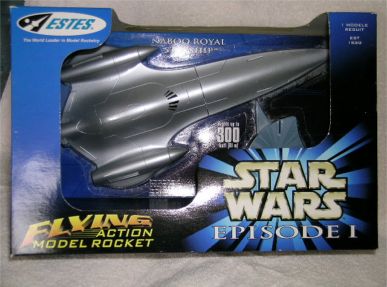 Brief:
An all plastic ready to fly rocket from the Star wars episode 1 range. There is a smaller version available as well. I got this in a job lot from a Star Wars fan and he had never flown it
Construction:
Its ready to fly. With the except on two detachable jets at the back, four clear plastic fins, and a Star Wars stand, you only need to open the box, glue the fins on, and you are finished.
Finishing:
The model is a grey plastic colour. There are no decals or finishing needed.
Construction Rating: 3 out of 5
Flight:
Before flying, I had my doubts mainly because the nose cone seems to be very light, given the mass of plastic at the rear end. Nevertheless, it was prepped with a C6-3 and off to the field I went. The rear jet pieces have to be removed before flight.
The rocket left the pad with a decent kick, however, anything below a C motor and it would struggle. At about 30 feet up it went very unstable, flipping around the sky. Ejection occurred with the nose cone firmly in the ground.
Recovery:
Estes still continues to use the elastic shock cord and plastic bin bag chutes. As I had a lawn dart, I cannot comment on the recovery section.
Flight Rating: 1 out of 5
Summary:
What a terrible kit. As there is nothing to build, I can solely blame Estes for a shoddy design. I might add some nose mass to the rocket in the future, but I'm not wasting another motor on this flawed rocket
Overall Rating: 2 out of 5