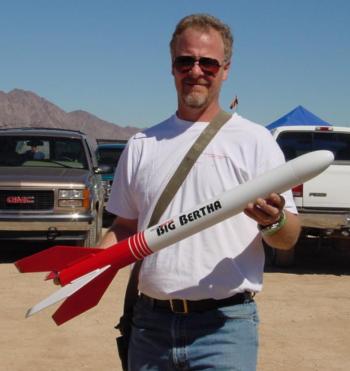 Brief:
A Super Big Bertha modified to a 38mm motor mount, through-the-wall fins, baffle ejection system, and Anti-Zipper recovery harness.
Modifications:
This project required a number of advanced techniques and material. Fortunately I work in a field that allows me the opportunity to have access to all the materials and special tools required (like a kid in a candy shop).
The airframe is covered in one layer of 6 ounce carbon fiber and carbon impregnated resin. It was covered and then placed in four inch heatshrink tubing. The tube was shrunk and set aside for the resin to set.
The four fins were made from .125 inch Micarta board with lightning holes cut in them and filled with foaming adhesive then a layer of carbon fiber pre-preg and 250 degree adhesive on each side. They were cured under vacuum at 250 degrees for 90 minutes. They are mounted through-the-wall.
The centering rings and baffle bulkheads are paper covered with carbon fiber, two layers each side cured under vacuum at 250 degrees. The baffle was fabricated from a stock Estes coupler lined with 6 ounce carbon fiber. Four 3/8th inch holes are drilled in each bulkhead and the inside face of each bulkhead is covered with a fine stainless steel screen. The upper bulkhead has a 3/16th eyebolt nut and washers that anchor a 12 inch 1/16th stainless steel cable covered in heatshrink tube.
The stock nose cone bottom was cut off, two layers of 8 ounce fiberglass was layered inside to reinforce the cone. A 3/16th eyebolt nuts and washers were anchored with a generous amount of lead shot and structural adhesive.
Construction:
Stock Estes tube supplied with kit.
(4) fins Micarta (Kevlar-phenolic) Prepreg Carbon fiber covered.
(2) centering rings stock Estes paper covered with carbon fiber two layers each side.
(2) bulkheads same as above.
(1) 4 inch Estes coupler lined with carbon fiber
9 inches phenolic 38mm motor mount
12 inches 1/16 stainless steel cable
25 feet of 1250 pound Mule Tape for shock cord.
Stock Estes Nose cone modified
( 2) 3/16 eyebolts for shock cord mounts
36 inch Recovery Technology parachute
misc - see text
Estes kit packaged great. Bought on eBay for 13 bucks plus shipping. Arrived undamaged. Referred little to the directions. Instructions typical of Estes, but largely ignored by builder (Me). The assembly after all the mods was pretty straight forward like any 3FNC rocket would be. The rocket is finished with Krylon Gloss White, Banner Red, and Clear Gloss Coat. The decals are stock. The rocket appears like the picture on the box (Total Sleeper).
Flight:
It was Sunday morning in the Nevada desert, Springfest's last day. The winds were calm as I built the I154-M. When I went to the RSO table for pad assignment you could say he was quite surprised by the weight of this sleeper. After reviewing the model I was assigned a pad. Upon arriving at the pad a couple of guys looked at my Super Big Bertha with wonderment in their eyes. I heard one say" What's he doing out here with that?" When my pad number was called the LCO started to read the flight card He got through my name the rocket's name, and then to the motor designation. With much surprised and commentary like "hey folks, check this out" the count down was commenced. On the launch command the 154 Black Jack chuffs a puff of black smoke and came to pressure with the typical slight delay. I love this effect. The rocket left the pad with a slow rush building speed for a bullet straight flight to apogee. The computer simulation had it somewhere around 4600 feet, but I think it was like 3500 at best. The delay was perfect and the recovery system was deployed perfectly. The 36 inch Recovery Technology parachute bloomed red and the rocket returned to earth about 500 yards from the pad. The picture is post flight and the only damage was the tail soot on the fins from the Black Jack propellant.
Summary:
Pros- This is one tuff rocket. It is a total sleeper and was really impressive on an I154.
Cons-Can't think of any.
Other:
All advanced materials used in the construction of this rocket were shelf life expired. They were not suitable for aviation, and were destined for hazmat disposal. The company I work for allows us to use these materials up on home projects because they do not have to pay the disposal fees. We return all empty containers for proper disposal and everyone is happy.