Brief:
Single-staged payloader kit bash of 3 different Estes kits. The DEMON is named after one of my favorite roller coasters at Six Flags Great America near Chicago.
Construction:
The DEMON is a combination of three different rocket kits:
Estes Bull Pup (body tube and motor mount)
Estes CC Express (fins)
Estes Echostar Payloader (transition, payload tube, nose cone).
To build this, you will need:
BT-55 Body Tube (you do not need to cut/trim anything)
Motor Mount
Payload tube
Nose Cone
The small BT-50 tube between the transition and the payload tube
The BT-55/BT-50 transition
You will need:
ZAP! CA
Elmer's White Glue
Hobby Knife
Start by assembling the upper half, which is the Echostar part. Assemble it as the instructions say but do not attach the small canard fins. You will not need them.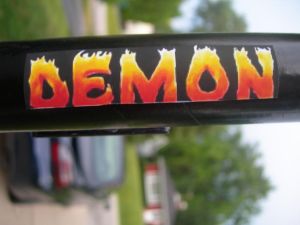 Next, assemble the motor mount as instructed in the Bull Pup's instruction sheet and glue it into the BT-55 body tube. Next, attach the three CC Express fins to the rocket. Attach the launch lug 5 inches from the bottom of the body tube.
Now get a long shock cord (at least 3 feet long) and glue it inside the body tube with the Estes style tri-fold paper mount. Attach the other end to the transition piece on the payload section. Attach an Estes 12" parachute.
Finishing:
Sand and prime the rocket if you'd like. Start by masking off the fins and the payload tube and spraying the entire rocket black. Next, spray the fins red. Finally buy some decal paper or some bumper sticker paper (available at Office Max) and apply the decal shown here. Optional: paint two red stripes around the rocket as shown in the photo. The rocket looks great. It was designed to be easy to spot in the air and on the ground.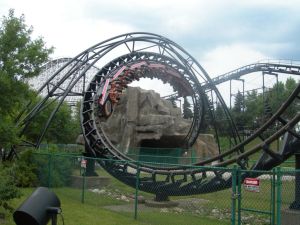 Flight:
The DEMON has had only one flight so far on an Estes A8-3. Prepare the flight as like any other rocket (about 6 sheets of wadding). For the first flight I recommend an A8-3 or a B4-4.
My first flight with the DEMON was a night launch, so you have an option of placing a bright LED light inside the payload tube. The rocket took off to about 120 feet on the A motor. The rocket ejected with the nose down but unfortunately the chute did not open (it was only around 50 degrees that night). The rocket fell to the ground but luckily suffered no damage.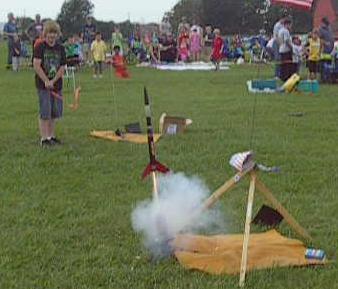 Recovery:
Don't use Quest chutes as it did not open at all on the flight.
Summary:
The DEMON is a fun rocket and relatively cheap to build. The only downside is that the Echostar has now gone OOP so good luck building the upper half.