Photo Album - Photos for the Tip "Adding Altimeter Payload for Low Power Rockets"
These pictures are intended to illustrate the Tip that describes my method of adding an Electronics/Altimeter Bay to low-powered rockets. This article is geared specifically for the Jolly Logic Altimeter One/Two, which is small enough to fit into a BT-20 body tube and light enough to be hoisted by a 1/2A motor or even T-motors (13mm).
"Exploded" view of altimeter bay showing arrangement of parts. Note no padding covers static vent holes.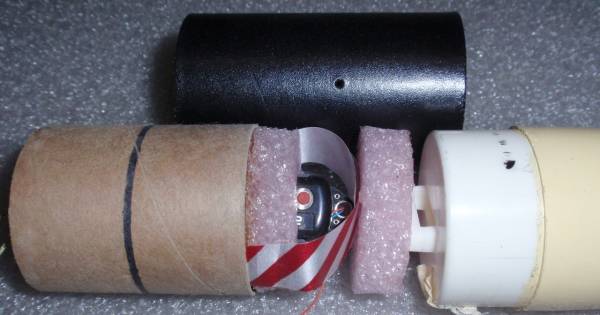 - Post a Comment -
EXIF Data
| Attribute | Value |
| --- | --- |
| Time | December 3, 2011 - 21:09:06 |
| Camera | OLYMPUS IMAGING CORP. u1010,S1010 |
| F-Number | f/10.0 |
| Exposure | 1/250 sec |
| ISO | 250 |
| Exposure program | Normal Program |