Brief
In my quest to have as many new or old rocket companies as possible represented in my fleet, it was inevitable that I'd eventually find the road to Canaroc. I'd chased several kits on Ebay over the years, seldom coming within sniffing distance, but forever intrigued. I'd built the two upscales by Sunward, but I'd never tried to approximate a 1:1 bird. I got interested in the idea in 2014 and managed to put together an approximation of two 3FNC Canaroc birds, the Orion and the FK-3. Since I managed to fly and decal the FK-3 first, it gets the nod as my first Canaroc review.
Components
9" BT-50 main body tune
PNC-50Y nose cone
18mm engine mount
3/32" fin stock
launch lug
24" Kevlar shock cord
24" length of 1/8" sewing elastic shock cord
medium snap swivel
Finishing
The paint scheme is a fairly simple three color job, gloss white body and one fin, gloss red nose cone and one fin, and the final fin gloss black. Decals were scaled, then printed on Bel decal paper using the scan in the link, then sprayed with two coats of Testors Decal Bonder before being applied. I scaled them slightly oversized, but not so much that you'd notice.
Construction Score: 5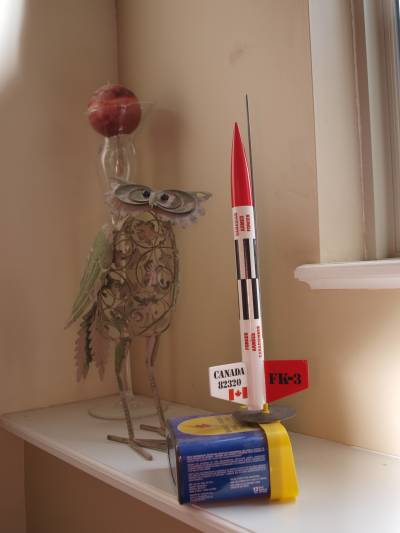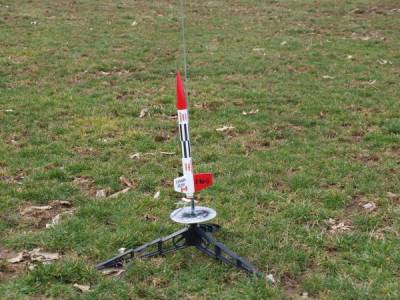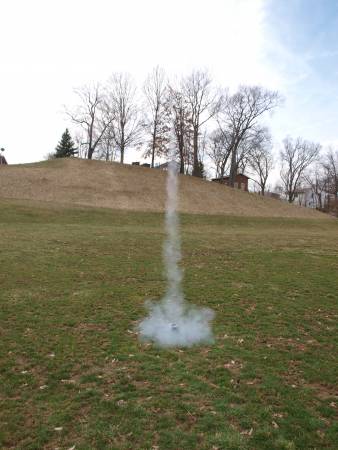 Flight
To date I have flown the FK-3 twice, both on an A8-3, and both at B6-4 Field. The first flight was in primer on an April Fool's Day in 2015. Straight up flight to 250', then the ejection charge fired and something separated from the rocket. It was white, but the whole rocket was white, so that didn't narrow the field. Turns out that the nose cone was a shop scrap, and I never gave it a thought as far as gluing it together. The cone came down on the infield. It would be glued in for the next flight.
Second flight was also at B6-4 Field on an A8-3, this time in full livery. It was one of four Canaroc clones I'd fly that day. The flight was almost exactly the same as the previous flight, flying to 250', huge ejection charge, nose cone separation. This time the only excuse I could come up with was that I'd used CA instead of model glue to attach the two halves of the cone.
Recovery
Flight Rating: 5
Summary
Pros: Vintage cool. Not many Canaroc products at the pads at a given launch. Parts availability.
Cons: And I STILL can't figure out how to glue nose cones after a lifetime of model cars and planes?
Overall Rating: 5