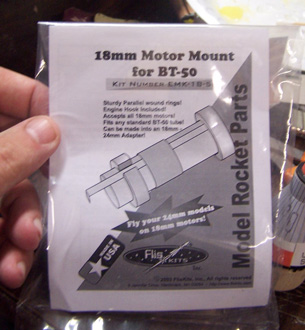 Brief:
This motor mount is intended for use either as a permanent installation in a rocket or for use as an adapter to put 18mm motors in 24mm motor tubes. It is for the latter purpose I purchased two of these. I wanted to adapt my Estes 36D Squared to be able to for use in smaller fields.
Construction:
Each mount comes with:
18mm motor tube
Engine hook
Thrust ring
(3) centering rings sized for a BT-50
The instructions are very easy to follow and presented with illustrations. The construction as a permanent mount or as an adapter is identical until the last step.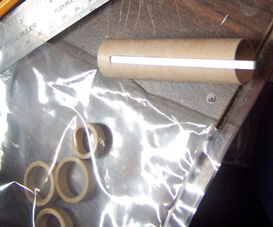 Construction begins by making a slit for the hook 1/4" from the end of the tube. Some white glue is applied to the back of the hook and it is inserted into the slot. Once it is in place, masking tape is used to keep it in place. The thrust ring is installed in the 1/4" gap at the front of the tube and seated against the hook.
There are 3 centering rings. The first one is glued flush with the forward end of the tube. The second one needs to have an 1/8" gap cut into it. If the assembly is to be used as a permanent mount, the slotted ring is glued in place with the slot over the hook just aft of the masing tape and you are done.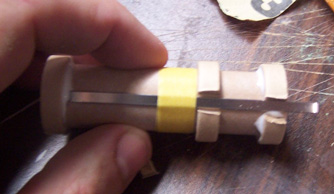 If you want to use the assembly as an adapter, you cut the third ring identical to the second one and glue it flush with the aft end. The second ring is then glued in place next to the aft one.
Mine went together easily. The only extra work I had to do was to sand a bit from the interior of the forward centering ring so that it would slip over the motor tube. I had to do this with both of the mounts I built.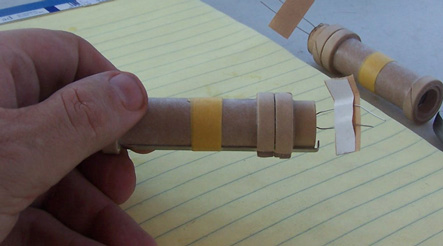 Flight:
As it turned out, I was unable to use these motor mounts on my 36D Squared because they would not fit. Subsequent investigation revealed that the failure to fit had nothing to do with the Fliskit motor mount. I had installed the thrust ring on the wrong side of the engine hook.
Instead of using the adapters in tandem, I tried them one at a time on another model, a Beta version of an InFlight Nike Smoke. The motor fit into the adapter well and the adapter fit into the rocket. It was well secured by the engine hook on the 24mm mount. The whole assembly performed flawlessly.
Summary:
This is a good choice both for mounting a motor or for serving as an adapter. It goes together quickly and easily and works well.
Overall Rating: 5 out of 5