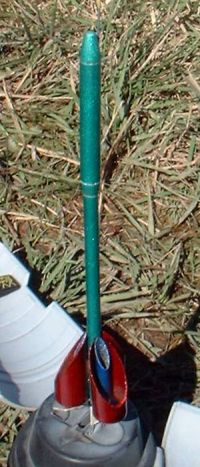 Brief:
This is a very cool tube-fin micro-sized kit flying on the Quest Micromaxx motors. This is a downscale of the very rare Overdue and commercially available Long Overdue.
Construction:
You get great quality tubes for this kit. In fact, all the components are first rate. The body tubes are at least as good as typical full-sized kits and the itty bitty balsa nose cone and transition were very well done.
While the instructions are micro-sized (12 steps printed on one side of 8.5" x 11" paper), the construction job is not. This is going to take a while and is every bit as challenging, if not more so, than a regular kit.
The motor tube gets a centering ring for a block, which is no big deal except for the fact that if you exhale too strongly when opening the parts bag, this little ring could vanish. It's definitely micro-sized. I wound up using a toothpick to apply the bead of glue inside the motor tube and a 3/16 launch lug to slide it in. (I didn't have a spent MMX casing at the time.)
Like the regular (or Long) Overdue, this kit requires plenty of careful tube cutting. There are 6 angled tubes, each of which are cut using wrap-around templates for marking. After cutting, I suggest using a sanding block to clean up the tapers.
Normally, you now bond the smaller diameter tubes inside the larger diameter tubes although this makes painting a real pain if you want contrasting colors. I painted mine first, masking off really slim lines to provide a good bonding surface. This worked great with the larger Overdue but not quite as well with the micro--the smaller diameter tube is really too small to paint inside using spray, so you might want to consider hand painting it.
The nested pair of angled tubes is then tacked onto the main/lower body tube. Again, pre-painting of the main body tube might be a good idea as you just can't mask off the tube fins. A balsa transition then goes on with a Kevlar® thread/cord tacked on as the shock cord. Construction wraps up with the assembly of the upper section (theoretically, this could be a Micromaxx payloader!), a slightly larger BT-3 tube and balsa nose cone. Not planning on carrying payload on this, I elected to glue the upper section together.
A stacked pair of launch lugs (the lower one serving as a standoff) go between two of the ring fin sets and construction is done.
Finishing:
I was a bit lazy and chose not to spend any time filling spirals or grain on this as they were barely noticeable.
I had prepainted mine using a combination of red, blue, and green metallic paints. This was the same color scheme I used on my Long Overdue. It looked OK, but as noted, I couldn't get decent coverage inside the smallest diameter rings/tubes.
There are no decals. Heck, even if there were, who could read them?
Construction Rating: 4 out of 5
Flight:
While some of the FlisKits Micro Series rockets won't fit on the standard Quest pads using the plug-in igniters, this one does. The backside of the instruction sheet contains lots of notes and tips for modifying the ignitor if you want to use a regular pad instead of the UFO tower/tripod pad. Motor choices are slim--MMX-IIs (or MMX-Is if you have them).
I flew mine twice on MMX-IIs. For some reason, both flights took a long time to light (2-3 seconds). I burned a 6-pack of motors that day and had no problem quickly lighting the others.
This is actually a relatively big, heavy, high drag micro kit, so it flew slow enough that I could actually watch it climb. Normally with Micromaxx flights, you really don't watch the flight so much as look for the ejection puff and pray you can find the model later.
Both flights were a bit early (a common problem with MMX's), but it came back fine.
Recovery:
The mylar streamer is provided more for visual effect (to comply with safety code) and really doesn't affect descent rate. This rocket tumbles back just fine.
Flight Rating: 5 out of 5
Summary:
This is a really cool design applied to Micromaxx scale. Compared to the RTF products that have been just about the only widely available kits, the innovative design is a great addition to the MMX line. [Note: ASP and Micro Classics offer some great MMX kits too.] This one will really help breathe life into the nearly dead MMX family.
Overall Rating: 4 out of 5