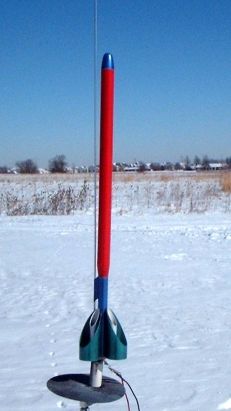 Brief:
Since its inception, FlisKits has had a policy that if an order ever shipped late, they would provide a free rocket called "OverDue". I've ordered quite a few products from them and to my knowledge, only pre-order customers of the Grissom and/or Nomad have ever been fortunate enough to get their orders late, and therefore accompanied by the ever-elusive OverDue. Now, Jim Flis has released a "stretch" version of the OverDue, for regular commercial sale, called the "Long OverDue". Same great tube-fin design, but even more of it to love.
Construction:
Inside the bag, you'll find plenty of tubes--a BT-50 upper body tube, a BT-20 lower body tube, and a BT-60 and BT-20 for cutting making into tube fins. Also included is a nice balsa nose cone, a card stock pattern sheet, and a recovery package of elastic and a plastic chute.
FlisKits instructions are always well written and contain sufficient illustrations; this is no exception. Being a minimum diameter design, there's no motor tube assembly, just a centering ring block. Next, the BT-20 must be carefully marked for aligning the tube fins.
The transition from the lower BT-20 to upper BT-50 consists of a cardstock shroud, supported by a centering ring. My shroud was slightly oversized, easily corrected by trimming it down. If it feels like you're doing this upside down or backwards, relax--you are. This design is an inverted small lower tube topped by a larger upper tube. Remember, these are the guys that brought you the ACME Spitfire!
The good news about fin construction is that there's no balsa to cut, sand, fill and seal. The bad news is that the tube fins aren't your basic Totally Tubular design. The Long OverDue has a set of three BT-60's, each of which has a BT-20 nested inside, and all 6 tubes have 45-degree sloped cuts at the top. The tubes are easily marked and cut using the included pattern, then marked with centerlines for mounting. Pay careful attention to the directions for this step, as there is very little extra tubing, and if you don't nest the cuts just right, you won't have enough to complete all the tubes.
The shock cord is attached by a paper tri-fold, then secured to the nose cone by a screw eye.
Overall, this would be about a skill level 3 kit due to the complexity of angled tube cuts.
Finishing:
I filled the seams in the body tubes before bonding them, thinking this clever step would make finishing go much more smoothly. Unfortunately, I filled the OUTSIDE of the tubes, and for the tube fins there's a lot of the inside exposed. Try sanding and filling the inside of a BT-20 with adult fingers! I made a feeble effort using a 13mm motor casing glued to a dowel, but decided I'd just have to live with a few spirals.
I opted for a metallic finish, using red for the top, blue for the bottom, and green and silver for the tube fins (painting the tube fins before bonding, then substituting CA for yellow glue makes the multi-color effect easy to achieve).
The finished product is a very eye-catching design. I only wish FlisKits would include decals with more of their kits, although this is a lot of kit for the money and I suspect water slides would be a bit over budget.
Construction Rating: 4 out of 5
Flight:
After several club launches were blown/snowed-out this winter, my cabin fever was burning badly enough that I trekked out in 10 degree weather to fly in clear skies and near zero wind conditions.
For its first flight, I went with the max--a C6-5. The flight was perfect--straight up, not even a trace of spin, and deployment right at apogee. FlisKits chutes offer three different sizes on the pattern sheet, and I went with the largest, resulting in a very slow descent, landing only about 20-30 yards from the pad. A 12" chute would suffice on a more windy day.
Recovery:
Excellent flight; best one of the day.
Flight Rating: 5 out of 5
Summary:
Another great design from Jim Flis. This one will be one of my most frequent flyers.
Overall Rating: 4 out of 5