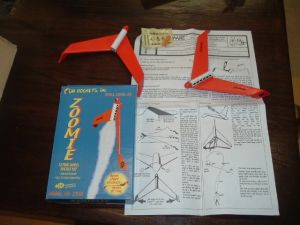 Brief:
A polystryrene rework of Holverson design's Zoomie. It is a neat little glider that was spoiled by replacing balsa wood with cheap foam.
I first saw one of the Fun Rocket versions of the glider about two years ago, when a friend bought one for £3. It was the first rocket glider that I had ever seen and I've been hooked ever since.
Construction:
Components consist of:
A prebuilt zoomie
Decal sheets
Nose weight (clay)
Instruction sheet
As the Zoomie is prebuilt, the instructions are mainly about trimming. Trimming the Zoomie is an easy affair as the instructions are straightforward and I've run model rocket workshops where 10 year olds have trimmed a Zoomie for flight in under 5 minutes and had 3 or 4 flight apiece that were good.
The instructions give the point of balance too. I've trimmed several Zoomies now and as a general rule the best way of trimming is to ignore the instructions, go outside and throw the zoomie around, and adding nose weight until you are happy. Most Zoomies require only a tiny amount of clay.
Finishing:
The instructions show how to finish the Zoomie with a felt tip marker, but I would not bother. The foam is cheap and the surface is pitted, however, it is reasonable pretty. Decals can be added, although I would not stick them to the body tube as they can peel off after a few flights.
Construction Rating: 3 out of 5
Flight:
The recommended motor for this glider is a 1/4A3-3T only. I've had dozens of flights with this glider but I have not used this motor once! Most flights I've had have been with a 1/2A3-2T or A10-3T.
The Zoomie leaves the pad very, very quickly. She's supposed to boost straight, loop after burn out, and then at ejection she should settle into a glide. In reality, each flight does it a little differently, and that is what makes this a good glider to start with. On the higher powered motor (A10-3T), she loops almost immediately with the motor ejection about 40 feet off the ground. I've seen a Zoomie settle into a steady glide at 80 feet and just hang there in a slight breeze. I've also seen one loop 360° and eject the motor at head height!
Recovery:
The recovery is always different, however, there are two drawbacks to the rocket.
First, the nose cone is not always fixed in strongly, and on two separate occasions on two fifferent zoomies, I've seen the nose cone be blown out. No real damage and it's easy to fix provided you find the nose cone.
The boost phase can cause a slight melt of the Zoomies wings. This does not affect the Zoomie too much, but now I always add a bit of aluminium tape to the trailing edges.
A tiny amount of clay can be added to one tip to bring the glider around in flight. On a 1/23-2T motor, the Zoomie can glide a 100 meters or so.
Flight Rating: 4 out of 5
Summary:
It's not the best glider in the world, but as a quick and safe introduction to the world of rocket gliding, this is a good place to start. It's where I started.
Overall Rating: 3 out of 5