Wingspan
19¾ in.
Weight
13.2 oz.
Length
34 in.
Engines
Aerotech E15-P
Cox .049
Radio
Hitec
Focus II
Prop
6x3 pusher
Well, I swore I'd never buy one (as big a fan as I am of the Blackbird, she's just been done to death), but a local hobby shop finally reach my level of pain with a price of $99 for HobbyLab's ~36th semi-scale R/C ARF now distributed by Ace. It's getting harder and harder to find (QuickTech still has some @ $119 with two E15-P motors!), but the included goodies made the plane basically free. The Hitec Focus II with receiver and servos runs ~$70, more with the miniature servos in this bird, and a ¼" launch pad is a minimum of $30 just about anyplace else. The launch controller with Aerotech-capable ignitor clips were also welcome.
The Aircraft
Good thing all these are included, or I'd've felt cheated. This is the worst built ARF I've ever seen. The launch lug had broken loose, as had the body shell halves in a few places, there really isn't access to the servo bay as advertised, and the finish on the ABS parts is horrible. The only thing you to assemble, the twin rudders, are crumby, too; they're made from the same material as the body shell, folded over to give double thinkness, the tip and trailing edges remaining unsealed for a poor edge. Attaching them with the recommended Bob Smith UFO CA seemed to work OK, though there is a lot of overspray on the "through-the-shell" tab. I made up a spare set from 3/16" SIG balsa (though 7/32" would've been a better fit) with proper air foiling and will attach them with 30 minute epoxy if the originals fall off. The battery bay door seems to be pretty fragile, too, though it does fit well.
Detachment One Timeline

8 Mar 1968

1st SR-71A #978 arrives
Pilot Buddy Brown, RSO David Jensen

10 Mar 1968

2nd SR-71A #976 deployed
Pilot Jerry O'Malley, RSO Edward Payne

13 Mar 1968

3rd SR-71A #974 arrives
Pilot Robert Spencer, RSO Ruel Branham

15 Mar 1968

All 3 SR-71s operational

16 Mar 1968

Fourth aircrew arrives by KC-135Q

21 Mar 1968

First SAC/9 SRW SR-71A #976
mission flown over Vietnam

30 Sep 1969

SAC SR-71s have flown over 100
"Hot missions" out of Kadena

21 Apr 1989

#974 lost in the South China Sea
Engine explodes, Pilot and RSO eject safely

21 Jan 1990

Last SR-71 #962 leaves Kadena
Tail reads "Det 1 RIP 1968-1990"
The finish on the foam shell is far from smooth, and decal application is a nightmare. The decals themselves are of top quality and historically accurate. Both the USAF (tail number 17972) and NASA (tail number 844) low visibility schemes (though why you'd want those on a black semi-gloss bird at 600' is beyond me) as well as a scheme for the famous "Ichi Ban" (tail number 17974) are included. (Not included are decals for such details as the drag 'chute door and multi-flow engine ports.) I made the red lines on the body with Carl Goldberg 1/8" red vinyl Color Stripe. I eventually gave up on the included water slides and did a few of the larger symbols on my Alps printer and from some Coverite number and letter sets, but those of you that use the ones suppllied should apply a ton of clear coat to seal them, or you'll be picking them up off the ground after launch. HobbyLab knows all about this as on one of their provided photos there was a chip in the starboard cockpit window decal.
The servo tray arrangement for the mixed elevons is clunky and poorly ranged, sending the servos into overload at its limits. The servos and receiver are mounted in the nose spine, making the push rods run almost the full length of the model. Their attachment to the dense styrofoam control surfaces only has one axis of freedom, and the clevises were deformed after my initial radio checks. The hinges are one-piece nylon affairs without pins, though at least these didn't fall victims to overspray. The antenna is fully enclosed in the model, radio reversing switches were set properly, and the clevises were dailed in for proper initial trim, though those were small consolations at this point.

Totally disapointing, though hardly a pain to build, I would rate this bird a 2 on the Essence scale for assembly, needs improvement. I would, but I won't; there's a lot more in this package that deserves mentioning (and a lot more that doesn't), and I'm reserving my rating until I've covered those topics.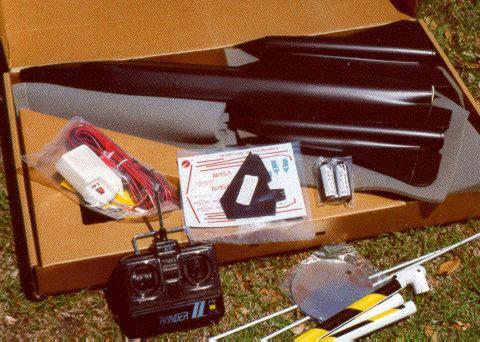 The Launch Pad
LASRE Timeline

26 Aug 1997

LASRE mated to NASA SR-71 #844

31 Oct 1997

First LASRE flight takes place

12 Feb 1998

Ground cold flow test

4 Mar 1998

First LASRE cold-flow flight

Nov 1998

Flight operations concluded
This, at least, is well designed and executed. The two-piece 48" aluminum rod is machined beautifully. I like the offset blast deflector, though I have no idea why it is painted black; a few shots with the recommended E15s eroded that in a hurry. The PVC legs are thick and have nice rubber plugs in one end to keep you from taking part of the field home with you, a nice touch. Also nice is the stand-off collar, though it would've been better made from aluminum, too; since its made from steel and brass, you can't leave it screwed down without setting up a battery and maring the finish on that pristine rod. The pad is a snap to assemble, and is sturdy and stable.
The Launch Controller
Mine's black, not white as pictured, so it's probably not the same unit HobbyLab originally packaged. Made in China, it does have everything you need; a safety key, separate power and continuity (labeled "Armed") lights and leads (though they're not very long), but no other bells and whistles. It'll get the job done, but don't loose that key, its unique to this system.
The Radio
I'm a big fan of Hitec's stuff, I've two other examples of their Focus II, a very depenable and flexible system. The switch is Hitec's big unit, so its easy to operate and spot, even on a black background. There is no charging jack, as the battery bay only has room for four AAA batteries; there is no option for installing a regular Ni-Cad flight pack. Hitec receivers run very well on alkaline batteries though, and I'm running my usual Radio Shack Ni-Mh AAA batteries anyway, so this really doesn't bother me, but Ni-Cad fans will find the situation uncomfortable.
I'm really glad the bird didn't come with the Cox Cobra II as pictured in the Kit Contents photo, that is one stinky unit. At one point, HobbyLab may have packaged the Panda Elite G2A two channel single-stick radio with the ship, but I have no experience with it. Also shown as included is a pair of the recommended E15-Ps from Aerotech . . . but they're not . . . included, that is. The hobby shop had them on sale for $15 a pair, not a bad price (E15s with delays and ejection charges run about $8 apiece), but they do not come with the kit as advertised.
The Instructions
Geez, somebody hacked this together from other drawings and documents in about a half hour. Initially it seems well done, but upon closer examination it falls apart. Many of the illustrations are not referenced in the text, and the text is so full of caveats and disclaimers that you have trouble finding anything useful. Come on, guys, you really didn't think neophites were gonna buy this thing, did you? We understand the risks, get on with it! The kit also comes with the radio manual, additional launch and pad instructions on a separate sheet, and a pre-launch checklist card.
Engine Choices

Flight Sequence
The recommended rocket engine is Aerotech's specially prepared single-use E15-P (which isn't availabe anywhere), though an Estes D11-P should work as well, taking the Blackbird to about 150 feet. (Estes recently anounced they were discontinuing that motor.) CHAD staging with a D12-0 would work, as the engine sticks out of the mount about ¼", but that would push the bird over the one pound limit (16.2 oz.), and would not only require additional nose weight, but notification to the FAA of a large model rocket launch. Also usable would be U.S. Rocket's D24-P or E12-P, but at the moment, they're not a real reliable engine source.
This left me wondering about the future of not only this bird, but any other true model rocket glider, i.e., under one pound wet. I went looking for other engines and after a little searching, I found the Aerotech RMS-RC 24/20-40 motor on their web site that's specifically for R/C rocket gliders. Initially, I wasn't able to find a dealer who handled this motor (or, indeed, a distributor that even listed it), but the company, in the person of Jenny, was happy to take my order over the phone and a motor case and a three pack of E12-RCJ (blackJack) loads are in production for me. $49.95 for the case, $10.95 for the reload three-pak, $15 haz-mat fee and $8 shipping, for a total tab of $83.90. Ouch!
Update:
I've since found two on-line dealers that sell these cases and reloads; Jims Hobbies On-Line, run by the inimitable Jim Stuckman, who has them as a considerable discount (~20%), and Vectoraero, designers of the famous 'Cuda and StingRay rocket gliders.
Still, this should let me fly just about every small model rocket glider I'll ever own, including the old Estes "Crapo"-Blasters. The assembled motor weighs in at 2.1 oz., just a tad more than an E15 (2.0 oz.) but somewhat more than a D11-P (1.6 oz.), and the empty casing weights 1.1 oz., versus .75 for the E15 and .67 for the D11, so some small nose weight may be necessary. D7, E6 and E7 reloads (all -RCT, Blue Thunder, all 3-paks) are also available for the case, though I have no info on them. You can get more from Aerotech's web site, they have a very complete (if crypticly organized) library of PDF files for all the products they make. (Adobe Acrobat 4.x is REQUIRED to read them, though, 3.x fails most miserably.) Those of you with large model rocket gliders will want to check out the 32mm RMS-RC motor and its F13-RCT, F16-RCJ, F23-RCW (White Lightning) and G12-RCT 2-pak reloads. Pricing is just a bit higher than the 24 mm case loads.
This will be my first use of an RMS case and of the much ballyhooed BlackJack propellant, I'll let you know how it goes.
Glow Engine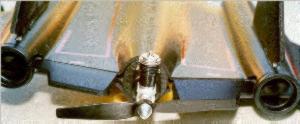 HobbyLab also offers a glow conversion kit, which, if the photo at left is accurate, is based on a Cox Babe Bee with a Killer Bee spinner and back plate. She seems to be sporting a 6x3 prop, too, which would be a bit much for this engine. Additional nose weight is required to run the glow option, which is supplied by a small, form-fitting weight that slips onto the nose. The glow engine option replaces the rocket engine pod, both housed in a 1.56" x 4.375" cylindrical bay in the rear of the model.
Pre-Flight Summary
There are some nice points to this kit, though its obviously targeting the Sharper Image market, rather that real rocketeers. Essence doesn't have a catagory that covers everything that comes in these starter kits, but I'm including all these things in this rating; I give this one a 2½, needs some improvement, especially with the bird and instructions.
Flight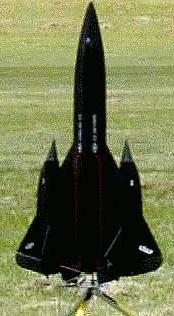 My bird's first flight was on an Estes D11-P, and was smooth, but a little heart-stopping. Her pilot had to hold full down in off the pad when she pitched up (or is it down?) coming off the rod, probably due to wind. He got it straight and nosed her level at apogee, which was indeed at about 150'. He turned her though about 270 degrees with about a fifteen degree down attitude and lined her up for landing. She came in smooth, slow and perfect, a three point landing (if she would've had points, that is).
Her next flight was on an E15-P, and while little or no control input was necessary off the pad, she sure did a dance getting to altitude, jinking and wiggling her way to about 450 to 500 feet (we didn't have this one tracked) and about 200 feet downrange. The pilot got some S-curves out of her and another beautiful approach, with this landing being mared only by one of the engine cones catching a clump of grass right after touchdown and bringing her up short.
The pilot thought she was a breeze to fly, very smooth and controlable, responsive without being a bit twitchy. Holding orientation lock on a black aircraft at altitude did prove somewhat difficult, and speed bleeds off fairly quickly in level flight, but is easily restored with about 10 to 15 degree down pitch. Stall characteristics are superb, with full up providing the perfect descent rate and flair at touchdown.
The D engine plume did leave its mark on one of the control surfaces, but its barely noticable. The E engine heat melted the glue on the rear engine holder centering ring, but it'll be easily repaired. Overall, she was the hit of the day, and a 4½ on the Essence ratings scale for flight, darn near perfect, and much better than I'd expected.
Summary
While its nice to have a boost glider in my stable with such fine flight characteristics, I'm waiting for the other shoe to drop. This kit's slapped-together feel and the bird's poor construction worry me about her durability. Still, she flies better that I thought she would, so I think an overall Essence scale rating of 3½, a little above average, isn't out of line. I just hope I haven't spent $200 for a handful of flights.