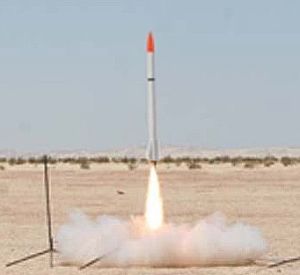 Brief:
Tall 4 inch 3FNC rocket built to be compatible with hybrid motors. I picked this rocket specifically out of the LOC catalog when I was shopping for my level 2 project. It has a 54mm motor mount, and is dual-deploy ready. It also comes complete with a drogue and main parachute.

Construction:
Plastic nose cone
1 4 in payload bay tube
1 4 in LOC avionics bay kit (6 inch long version)
1 4 in main airframe tube
1 54mm motor mount tube
3 Motor mount centering rings 4in-54mm
1 Recovery harness mount centering ring
Recovery hardware
3 Fins (1/8 in plywood)
1 1/2 in launch lug
1 50 in main parachute
1 18 in drogue
1 overflow tube
2 lengths of shock cord - 1/2 in elastic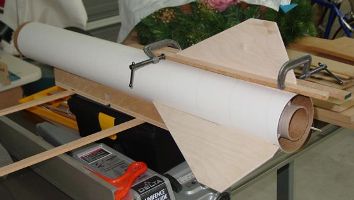 In retrospect, this was a very straightforward build for a high power rocket. The instructions were minimalist. It was my level 2 project, and only my second HPR kit. Even with my inexperience, I had no trouble with the instructions. I built mine with sturdy internal fillets and expanding foam (courtesy of PML). I was a little disappointed with the 1/8 in plywood fins. They are pretty flimsy for this size rocket. And mine were warped on arrival. I had to apply a caul to straighten them during assembly (see photo).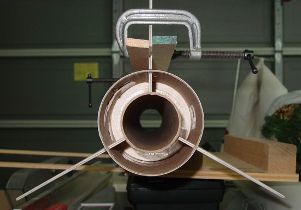 The regular paper LOC tubes are plenty sturdy for J launches. It would be very straightforward to glass this project, but not really necessary unless you want to push your luck with the sound barrier (in which case the fins would be the first things to go).
I replaced the elastic recovery harness with tubular nylon from What's Up Hobbies. I never use elastic in HPR.
I added a 54mm Aeropack retainer. I highly recommend these for a classy looking, easy to use, reliable retainer. (No, I don't work for the company).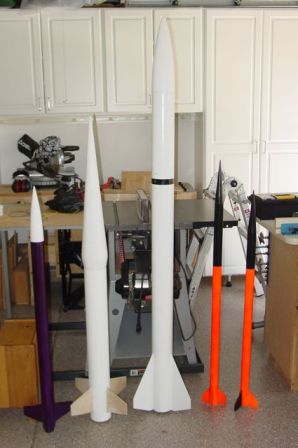 Finishing:
I did not do any fancy finishing. Just spray paint from ACE Hardware. I originally painted the nose cone bright orange, but it flaked right off almost immediately. Clearly I have something to learn about painting these plastic nose cones.
Construction Rating: 3 out of 5
Flight:
My first flight was my Level 2 certification flight on a J350, using a 54-38 Aeropack adapter. It was also my first dual-deployment. A perfectly good flight. The still picture of the launch is a vidcap from the launch video. This rocket had many excellent flights, mostly on J motors, all dual deployment, some drogueless.
Recovery:
A couple of hard landings in the desert due to my own failings (coming in under drogue, for example) led to fin fractures. I was able to repair one, but the second was too catastrophic. Since I had foamed them in, I could not repair the fin can and had to scrap the rocket.
Flight Rating: 3 out of 5
Summary:
Overall this is a terrific design. A very good level 2 project and a great first dual deployment rocket. I honestly do not think it is worth the price, especially given the poor quality recovery harness and too-thin fins. It is fairly easy to build a similar design from scratch, and remedy these shortcomings, for less money. This kit was actually a major reason I stopped buying HPR kits in general and started scratch building.
Overall Rating: 3 out of 5